Transport & Logistics Conference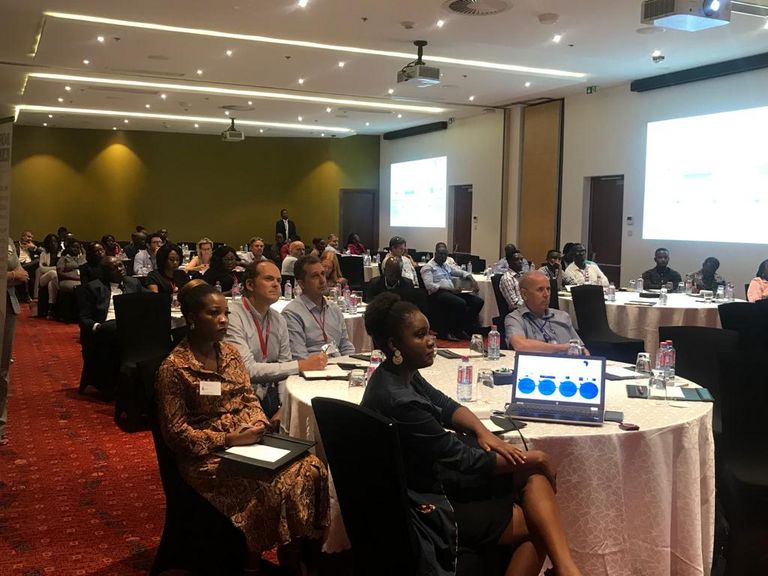 The Chamber of Commerce and Industry France Ghana (CCIFG) organised a conference on Transport & Logistics
The Chamber of Commerce and Industry France Ghana (CCIFG) organised a conference on Transport and Logistics on 28th November 2019 at the Accra Marriot Hotel. Facilitated by Bollore Transport & Logistics, Meridian Port Services and Borderless Alliance, the conference gathered about 65 business executives from various sectors.
To begin with, the Commercial Director of Bolloré Transport & Logistics, Mrs. Florie Manteuffel, provided a general overview about logistics and its importance. She presented The Six Logistics Performance Index, sharing worldwide results covering volumes (imports & exports) and highlighting the inequality of some countries versus logistics turnover.
The following annual volumes were mentioned when focusing on Ghana's activity: imports 460,000 / exports 130,000. Ghana has less trading partners across the continent; however, the country serves as an internal gateway for Burkina Faso, Mali and Niger. The end of the presentation listed completed and upcoming projects that should serve as infrastructure in improving trade within the region.
The presentation by Meridian Port Services (MPS) focused on International Trade in relation to port activities. Participants were introduced to the Container Ship Revolution, which shows a significant change in number of shipping lines and its related infrastructure. Mr. Cyrille Lemme (Head of Business Transition) added that this revolution proves future significant changes in the shipping and transportation industry. The MPS team showcased media content about Tema Port expansion, reiterating how the project is to improve performance and increase volume by 14-17%. Participants had the opportunity to have a digital view of the expansion project: the 700m completed berth, the upcoming construction of 2 more berths; as provided in the 20-berth master plan of the Ghana Ports and Harbor Authority. Mr. Diogo Silveira (Planning Manager) closed off with a presentation of its potential feeder routes within the West African region -a potential impact on the region as a result of the Tema Port expansion.
The National President from Borderless Alliance: Mr. Ziad Hamoui, talked about Partnering to Unlock Regional Trade in West Africa with a focus within the ECOWAS region. He shared data about Doing Business in West Africa and its derivative impact on trade and transport. He listed the available opportunities of doing business within the region and the attention geared towards logistics-related infrastructure. When it comes to Intra-regional trade, Mr. Hamaoui listed Ghana as the highest ranked Foreign Direct Investment within West Africa @ USD 3 billion. However, the country slipped in terms of Doing Business. A synopsis on Ghana and the African Continental Free Trade Area (AfCFTA) was highlighted as potentially serving as a strategic key to 'Trade, Move and Grow Africa'.
Presentations were followed by a "question & answer" session, which focused on the effects of Nigeria's decision to close its borders to its neighboring countries and the long-term effect for the overall region.
The conference was shortly followed by a successful networking cocktail.
CCI France Ghana
The Chamber of Commerce and Industry France Ghana is an association of approximately 150 companies and professionals belonging to different sectors, which aims at supporting - fostering and enhancing bilateral trade and investment relations between French and Ghanaian companies.
With over 20 business sectors represented, the CCIFG acts as a business support system to its members by providing information through market studies, product-market testing, prospective missions as well as trade shows.
To contribute to business growth for members, CCIFG continues to organise informative events to share practical information and create a platform to establish new business partnerships. These conferences provide impactful information for business activities available within the GGIFG network.