Discovering Ghana
1. The Essentials through Figures (2021)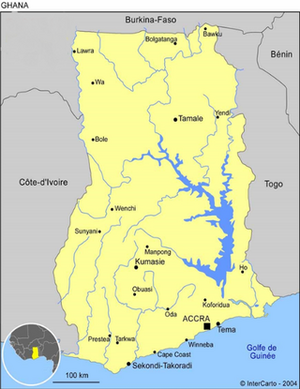 Official Name : Republic of Ghana
Language : English
Capital : Accra
Currency: Ghana Cedi (GHS) where GH¢1.00 = € 0.14 (August 2021)
Population: 31,730,135
GDP (EUR billion) : 61.9
GDP Growth Rate* : 0.9% (6.5% by IMF)
Public Debt in GDP : 81.47%
Inflation Rate : 8.97%
Unemployment Rate : 4.53%
(*) Government
2. A Politically and Economically Stable Country
A stable governance
Independent since 1957, Ghana, an Anglophone nation, is a Republic whose President HE Nana Akuffo-Addo was elected in 2016 for a four-year term. He won a second term on 9 December 2020 in a tightly contested race against National Democratic Congress (NDC) candidate and former president, John Mahama. The country has experienced several peaceful political changes, making it a pole of stability and a model of governance for the entire sub-region.
A stable and diversified economy
With an average annual growth of 6.7% throughout the last 10 years, Ghana's GDP is estimated at EUR 61.9 Bn (EUR 2,013 per capita). Currently, it is the 2 nd largest economy in the ECOWAS region, behind Nigeria and before Ivory Coast.
The Ghanaian economy is diversified, the service sector accounts for (53.9%) of the GDP, before the industrial sector (26.6%) and agriculture (19.5%).
Gold (2 nd largest producer in Africa), cocoa (2 nd largest worldwide producer) and oil are the main exports of the country, with respectively EUR 4.6 Bn (44.5% of exports), EUR 2.3 Bn (22%) and EUR 1.3 Bn (12.7%).
3. An Openness to Global Business
International trade
For the first time since 2011, Ghana has presented at the end of 2016 a positive balance of payments with a EUR 232.2 M (USD 247.4 M) surplus. This progression is mostly due to the improvement of the current account balance and more particularly the trade balance, whose deficit went from EUR 2.9 Bn (2015) to EUR 1.6 Bn at the end of the year.
Ghana remains a net importer in 2016 with EUR 12 Bn allocated to imports (-5.3% against 2015) and EUR 10.4 Bn (+7.2 against 2015) revenues coming from exports. The European Union is the first trade partner of the country with a bilateral trade generating EUR 4.5 Bn in 2016.
Foreign Direct Investment (FDI)
According to the UNCTAD, FDI inflows have reached EUR 3.3 Bn in 2016 against EUR 2.9 Bn in 2015, thus an increase of 13.7%. Ghana has received 29.7% of FDI inflows towards West Africa.
This progression seems to be pursued in 2017. The Ghana Investment Promotion Center (GIPC), the organization in charge of FDI in Ghana, has announced the registering of 49 projects on the first quarter of 2017, for a total sum of EUR 2.7 Bn invested within the country.
4. Some Challenges
Energy
If access to electricity in Ghana ranks among the highest in Africa (72% of the population has access to it), the country experiences a continuous energy deficit which can be explained by an insufficient offer against an ever-growing demand (+10% per year), along with financial distress from the public actors of the sector.
This is the major challenge of the government which is being undertaken by the launch and completion of several production plant projects. Thus, annual electricity exports climbed by approximately 26 percent to 1,801 GWh (gigawatt hours) in 2020, this increased offer should be able to ensure a better handle of electricity costs.
Public indebtedness and Monetary stability
Under an IMF program until July 2021, Ghana is leading a policy which aims at reducing its public deficit and indebtedness. The ultimate results published in 2020 are showing a decrease of the public debt at 78.5% of the GDP however, with a policy rate (13.50) reduced by 100 points less.
Other major challenges: the inflation control and the Cedi's stability. Regarding the first one, the month-on-month 2017 observation shows a control below 2%. For the second one, the volatility of the Cedi is mostly explained by the imports and the demand for foreign currency; the currency has remained stable against the US dollar since the end of 2016.
Industrialization & Agricultural Development
The industrial and agriculture modernization programs aim at creating added value in Ghana. The government has engaged itself on a EUR 210 M investment for both sectors through its two flagship programmes: One District One Factory; and Planting for Food and Jobs, while calling for the private sector to support this initiative.
Your potential in Ghana
Thanks to its political stability, its growing middle class and the expansion of transportation and infrastructures, Ghana offers a great potential of development on a large variety of sectors, from agro food to energy, along with fast moving consumer goods and industrial equipment.
Through its dedicated business support service, the Chamber of Commerce and Industry France Ghana is able to inform and accompany French enterprises willing to create business opportunities in Ghana.
Contact us for additional information.