Recycling E-Waste in Ghana by young ambitious Ghanaian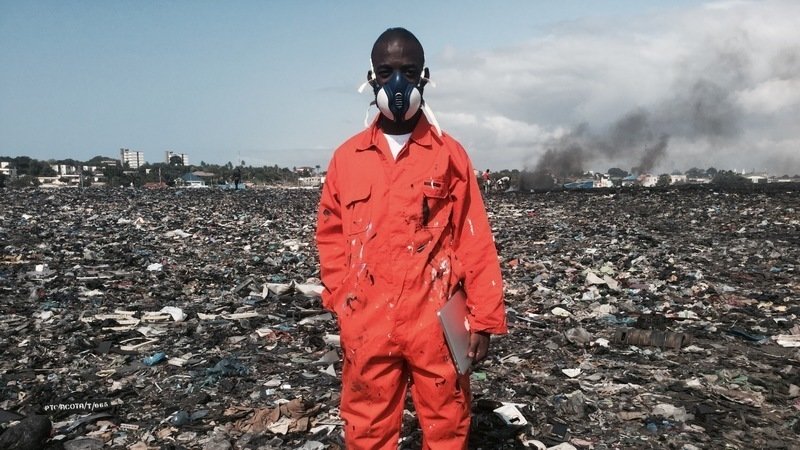 Joseph Awuah-Darko sits on a stool at one of the world's largest electronic waste dumps, watching polystyrene and insulation cables burn on the blackened ground.
The 21-year-old British-born Ghanaian, surveying the stretch of wasteland around him as dense plumes of smoke rise into the air.
Joseph and his university friends have ambitious plans for the sprawling Agbogbloshie dumping ground in Ghana's capital, Accra.
"I don't really think the future of Agbogbloshie is that it should be confined to a waste-dump. I think that it would be transformative. It will become a hub for design thinking, and innovative ways, working hand in hand with the whole populace there to kind of create value added mechanisms and value added products from the waste."
In January this year, he co-founded the non-profit Agbogblo.Shine Initiative, which encourages people working at the dump to turn waste into high-end furniture.
"It's true that Agbogbloshie is a result of negative externalities from dumping by more developed European countries, but I saw, or I chose to see the opportunity within the mess. I chose to see the opportunity to create, and turn what has been called a dump into an opportunity."
The dump workers typically risk exposure to harmful fumes by burning obsolete and unwanted appliances such as mobile phones, computers, televisions and plastics that are brought to Ghana from around the world.
"We are suffering here because the heat is there, the smoke, too, it disturbs us. If we find a good work we will go and join it and leave this place," Mohammed Abdul Rahim, a dump site worker said.
After burning, they salvage and resell copper and other metals from these leftovers of modern consumer culture.
Awuah-Darko's first upcycled work is a grandfather clock, made from a galvanized car axle, aluminium and part of a discarded wall clock.
Two high-end hotels in Accra are currently vying to buy the unusual timepiece, he said, and with such interest he has plans to create more and expand operations.
He hopes that his initiative will not only improve lives but also the planet, as waste from the site is given another life.