Health • Communication - Press • Members Santé - médical - pharmaceutique
PAIRS Neuro awards Euracare Ghana's Dr. Benjamin Sarkodie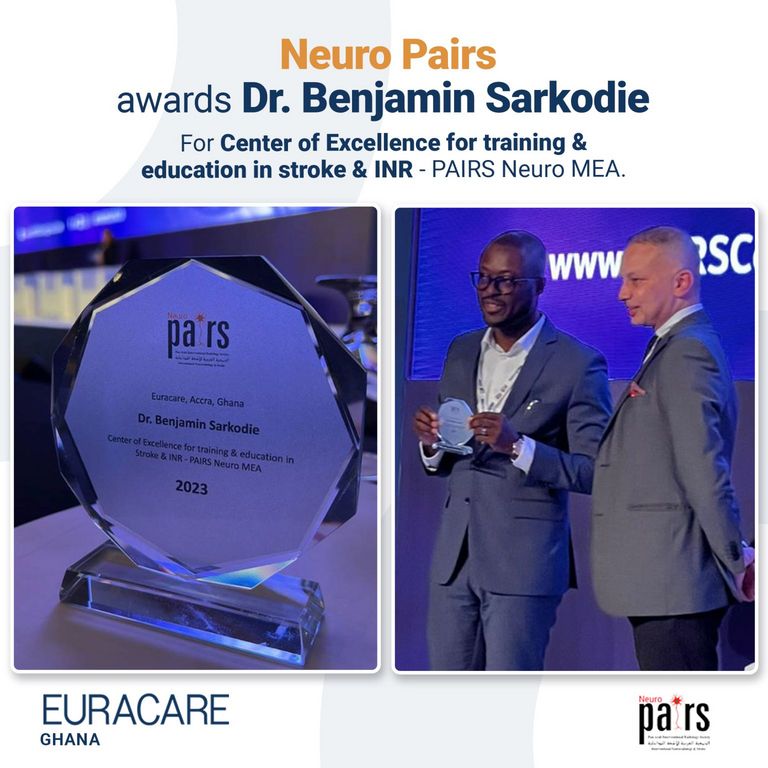 Press Release - PAIRS Neuro 2023 conference
Euracare Ghana's Interventional Radiologist and Medical Director, Dr. Benjamin Sarkodie, recently attended the prestigious PAIRS Neuro 2023 conference in Dubai from February 11-14.
This event was an opportunity for top neurovascular and interventional radiology specialists from around the world to exchange ideas and knowledge, and Dr. Sarkodie was there to represent Euracare Ghana.
At the PAIRS Neuro 2023 conference, Dr. Sarkodie had the opportunity to interact with some of the best minds in neurovascular and interventional radiology, and his presence was an inspiration to all. The conference featured a four-day comprehensive program with high-level scientific content consisting of interactive educational sessions, PAIRS Neuro courses, and dedicated sessions on stroke management, Aneurysms, and Brain AVMs.
As a leading expert in Interventional Radiology, Dr. Sarkodie's passion and expertise in delivering the best possible patient outcomes is unmatched. He has an impressive track record of being the first to perform several groundbreaking procedures in Ghana, including intra-arterial chemotherapy, brain aneurysm coiling, conventional angiogram for conjoined twins, thoracic endovascular aortic repair, endovascular abdominal aortic aneurysm repair, intracranial mechanical thrombectomy, prostate artery embolisation, carotid cavernous fistula and many more.
He also presented a paper on the challenges of neuroendovascular and stroke therapy in developing countries
Dr. Sarkodie is a true trailblazer in his field, and his work earned him the prestigious international scholar award program of the Society of Interventional Radiology in 2014.
Euracare Hospital is proud to have Dr. Sarkodie leading its medical team, and his attendance at the PAIRS Neuro 2023 conference further cements his position as a leading authority in Interventional Radiology. His presence at the conference is a testament to Euracare's commitment to providing the highest level of care to patients undergoing interventional neuroradiology and endovascular neurosurgery procedures.
We congratulate Dr. Sarkodie on his achievements and look forward to the many more groundbreaking procedures he will perform.
EURACARE - Our Mission is Health, Our Specialty is YOU!