Publications • Members Supply chain
Melcom Care Foundation Holds Nationwide Blood Donation Exercise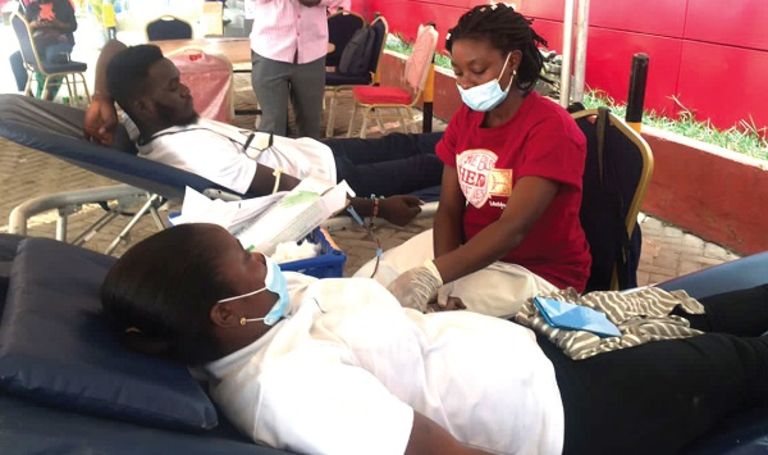 The Melcom Care Foundation, has organised its annual nationwide blood donation exercise...
The charitable wing of the Melcom Group of Companies, in collaboration with National Blood Transfusion Service, has organised its annual nationwide blood donation exercise.
The exercise, which was held simultaneously at the Group's 25 designated centres across the country, was part of efforts to help stock the National Blood Bank.
Speaking at the launch at Melcom Plus, Tema Community One branch, the Director of Communications, Melcom Group of Companies, Mr Godwin Avenorgbor, said the exercise formed part of the corporate social responsibility, which this year was dedicated to the memory of the late Mr Bhagwan Ramchand Khubchandani, Group Chairman of the company, an active blood donor who passed on last year.
He said the late Mr Khubchandani, while alive never missed an opportunity to help save lives by offering himself to be bled for that purpose.
Mr Avenorgbor underscored the importance of voluntary blood donation to save lives and urged Ghanaians and foreign residents to support the activities of the National Blood Bank to help save the lives of expectant mothers, as well as accident victims who required blood transfusion.
The Director of Communications noted that Melcom had embarked on blood donation exercises for a number of years, however, since 2013, the Group transformed from single centre blood donation to a nationwide campaign.
He said the company would have loved to cover more areas but for technical inadequacy reasons given by the National Blood Service, it was limiting it to 25 centres across the country.
Objective
He said the objectives of the campaign was to bring to the fore, the importance of blood donation as a life-saving opportunity and to create a common platform in all regions for the mobilisation of donors.
In view of the unfortunate development, which resulted in loss of lives and severe injuries to residents of Appiatse in the Western Region, Mr Avenorgbor appealed to Ghanaians everywhere to participate actively in voluntary blood donation exercises for the good of the victims and others who required blood transfusion as a last resort to save their lives.
Support
Touching on other community services by the foundation, he said the late Group Chairman showed keen interest and supported girl child education, hence the Melcom Care Foundation would offer support to Touching Lives of Girls Foundation, an NGO in their menstrual hygiene outreach programme this year.
He said it was envisaged that the foundation scholarship scheme would be enhanced to accommodate brilliant children of permanent managers of all divisions of Melcom Group of Companies who would meet the requirements.
SOURCE → GraphicOnline.com