Communication - Press • Publications • Members Transport - Logistique
CONSHIP Celebrates 26th Anniversary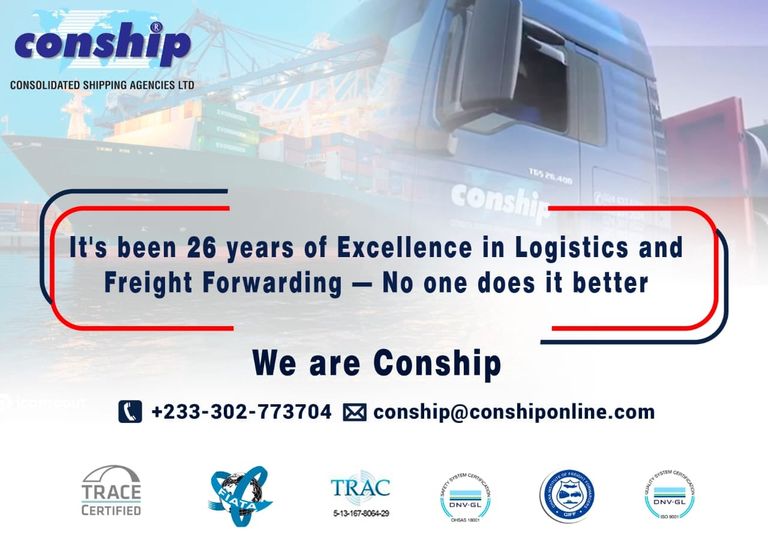 Consolidated Shipping Agencies Limited (Conship) is a hundred percent (100%) Ghanaian owned and operated company...
Consolidated Shipping Agencies Limited (Conship), a reflection of an orientation to provide quality services across all spheres of the logistics industry, commenced operations in 1996 as a limited liability company, primarily focusing on ocean freight forwarding.
Conship is a hundred percent (100%) Ghanaian owned and operated company. Over the years, it has diversified its operations into other areas of the logistics Industry, such as Airfreight, Marine and Husbandry, Logistics and Projects. The discovery of oil in commercial quantities in the Western Region (Offshore) of Ghana brought with it enormous opportunities for the Logistics and Supply Chain Industry. In this regard, Conship is currently recognized as an offshore and onshore logistics services company.
Aside being a giant in the provision of services in the Oil and Gas industry, Conship has strong strengths in all areas of logistics including the vertical markets which include Telecommunication, Consumables, and Contract Logistics amongst others.
Conship is strategically headquartered on the 5th Floor of the Silver Star towers.. This location of the headquarters enhances operational activities resulting in swift delivery which enable us to meet our clients KPI's.
The company has three other operational branches strategically located in Tema, Accra and Takoradi. The Tema branch is strategically located on Plot number 21/22 of the commercial warehouse area of the Tema Main Harbour, with a floor area of 2395.74m2. The facility comes equipped with a two-unit warehouse with net internal floor area of 614.24m2 and volume of 3,562.59m3 for Container Freight Station Operations and Customs Bonded Warehousing operations.