CCIFG updates its members on Tax System in Ghana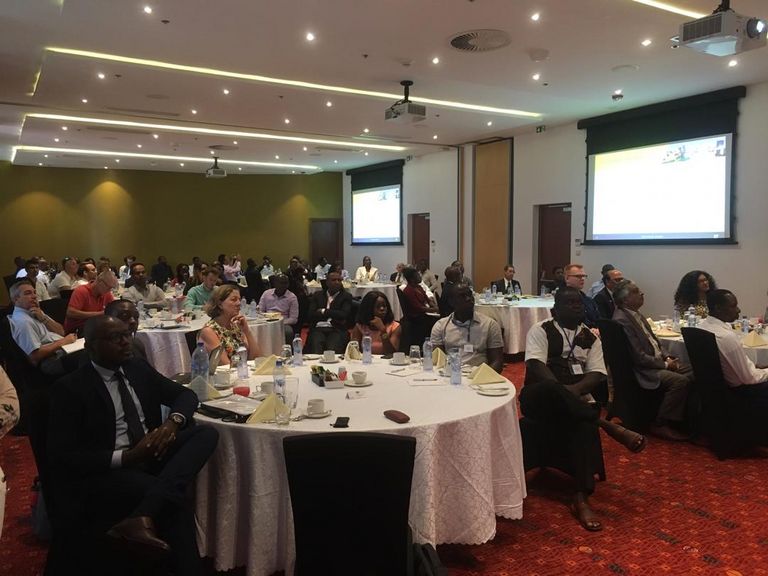 The Chamber of Commerce and Industry France Ghana organised a Business Breakfast to give an update on the Tax System in Ghana with Ernst &Young.
The Chamber of Commerce and Industry France Ghana (CCIFG) in collaboration with EY, organised a Tax System Business Breakfast on the 10th October 2019 at the Accra Marriot Hotel, with over 80 attendees. The event was facilitated by a team from EY: a global leader in assurance, tax, transactions and advisory services. The EY team gave thorough and interactive insights on recent updates on Ghana's tax system.
Presentation started with an introduction by the Senior Manager-Tax Services, Mr Kwasi Owiredu, who shared updates on business tax and its implications on various sectors such as telecommunication, Oil & Gas – Upstream. Mr. Owiredu, further illustrated a case law on tax update to enable participants to better understand the subject. Lastly, he provided different option on exit strategy.
The introduction was followed by a brief lecture by Mr Kofi Akuoko, Manager-Tax Services who explained into details the new regulations on transfer pricing and its key changes. He further talked about the new 6 steps of analytical framework for analysing risks and how these risks can be avoided.
Concluding the session with Mr Benjamin Arthur, also the Manager-Tax Services, who focused on personal income tax issues, providing more information on worldwide taxation and its implications. He further mentioned the impact of PAYE taxes and how to minimize it as well as some exemptions under the Mandatory Pension Scheme.
The presentations by the representatives from EY were then followed by an engaging Q&A session. Participants engaged with EY on common issues faced in their various sectors. Experiences were shared and solutions as well as advice given.
The breakfast meeting was the first event organised by CCIFG with Ernst & Young this year to help both its members and non-members become abreast of the changes in Ghana's tax system.
Ernst & Young is a multinational professional services firm headquartered in London, England, United Kingdom. EY is one of the largest professional services firms in the world. Along with Deloitte, KPMG and PricewaterhouseCoopers, EY is considered one of the Big Four accounting firms.
CCI France Ghana
The Chamber of Commerce and Industry France Ghana is an association of companies and professionals belonging to different sectors which aims at supporting, fostering and enhancing bilateral trade and investment relations between French and Ghanaian companies. With over 20 business sectors represented, the CCIFG acts as a business support system to its members by providing information and business opportunities through informative events, market studies, product-market testing, prospective missions and trade shows.
To contribute to business growth for members, CCIFG continues to organize events with its partners to share practical information and create a platform to establish new business partnerships. The Business Breakfast organised on the Ghanaian Tax System in anticipation of the presentation of the 2018 Budget to Parliament goes beyond forming part of CCIFG's effort to provide this business support to members, but is also a significant contribution to the global rising the France in Ghana's network and activities so as to enhance the existing bilateral relationship between the two Republics