Communication - Press • Events • Publications • Members
Alliance Française | Cultural Newsletter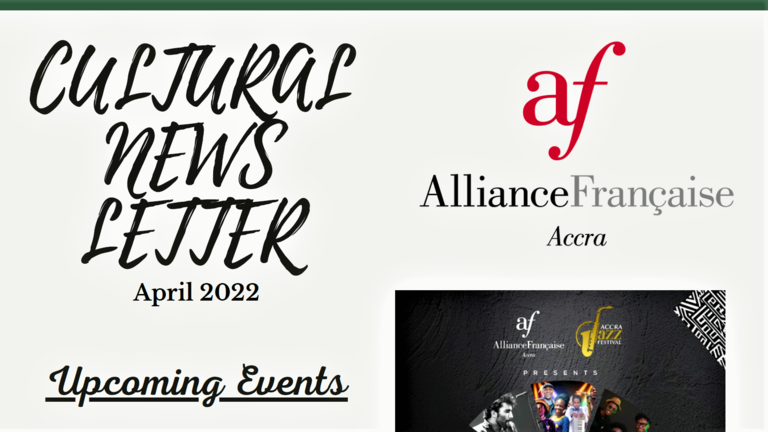 Upcoming Events at Alliance Française for the Month of April 2022
The Alliance Française Accra Jazz Festival is held annually to commemorate International Jazz Day. The Accra Jazz Festival aims to promote intercultural dialogue through the music, raise important discussions, and create space for knowledge-sharing.
The Accra Jazz Festival 2022 is a three-day festival which will host a series of activities - A women's art exhibition, workshops and a three day concert series.
Date: 25th - 30th April 2022
Rate: GHS 50 per concert
After the success of Worlafest, celebrated alternative artist Worlasi is bringing fans another concert this month that not only celebrates Art and Music but draws attention to the importance of green spaces in our community.
The Giving Shade Concert will have at least 3 high profile acts with Worlasi headlining, an art exhibition and vendor stands.
Date: 8th April 2022
Time: 7pm
Rate: GHC 100
It is time for the KUCHOKO ROOTS FESTIVAL 2022 where we take the roots to the roots, the kuchoko from the ghetto to the grotto.
Playing live with power is BLAKKRASTA, the Kuchoko legend, Rex Omar ,Ghana's highlife legend and other fireblazers like Fee Ranking, Blakka T, TQay, Edy Weyori, Zendimah and the ever-powerful Vibration Kings Band.
Date: 15th April 2022
Time: 6pm till midnight
Rate: GHC 50
OAFRICA - 20th Anniversary Alumni Homecoming
The Ghanaian children's charity OAfrica is celebrating 20 years of activity, and bringing together all the children it has helped over the last 20 years to celebrate with a Homecoming Celebration on the afternoon of the 16th April.
Date: 16th April 2022
Time: 2pm - 7pm
Rate: Free
After a stunning first performance at AF Kumasi, the team is united again in 2022 to record a music album... But before that, they want to give a first taste on stage with the exclusive participation of Yaw Tog !
Date: 16th April 2022
Time: 7.30pm
Rate: GHC 30
Students: GHC 15
Meet the Artist Garden Cocktail with Yaw Obuobi
Yaw Obuobi is a UK based artist who uses strands of wool to develop his own technique, dubbed "yarn painting" – an engagingly innovative art form. Yaw is currently in Ghana to launch his latest series "The Heart and Soul of African Design" in collaboration with Alliance Française Accra. Come buy some vintage art!
Date: 23rd April 2022
Time: 6pm
Rate: Free (buy some art!)
Call
050 128 7808
050 128 7811
For your Tickets and Event Bookings