CCIFG partners Adepta to organise the French Pavilion at the 4th edition of the West Africa Agrofood 2017.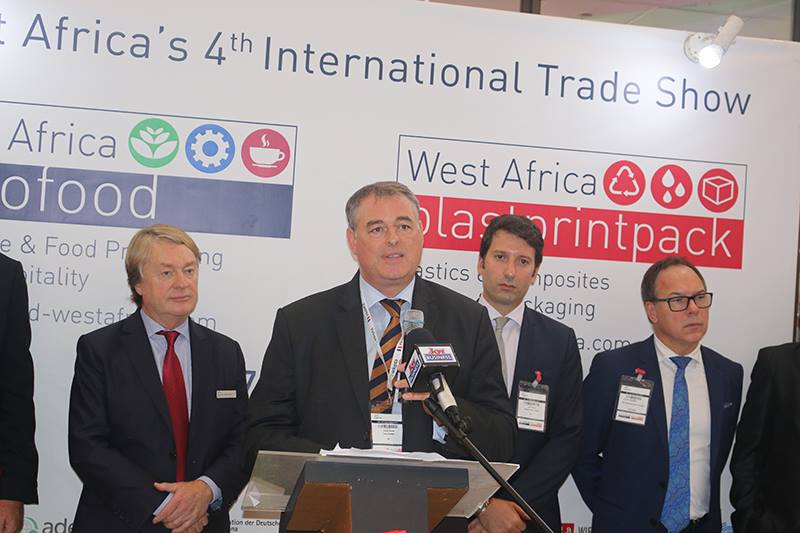 The CCIFG organised in partnership with Adepta the French Pavilion at the 4th Edition of West Africa Agrofood which France's expertise in agrofood technology. 7 companies, specializing in a variety of segments which includes irrigation, water treatment, refrigerated storage, livestock & meat processing participated. The French Pavilion was launched by the Ambassador of France to Ghana H.E. Francois Pujolas.
This fair was aimed at bringing opportunity to the Ghanaian market as well as bridge the gap between France and Ghana. The Chamber of Commerce and Industry France Ghana (CCIFG), an association of companies and professionals belonging to different sectors which aims at supporting, fostering and enhancing bilateral trade and investment relations between French and Ghanaian companies also organised dedicated business to business meetings with Ghanaian players.
It was also an opportunity to further discover their interest and respond to local needs by providing customized solutions. French companies present at the pavilion included BWT France, Cesbron, Cycle Farms, Dagard, Decopack, Kulker and Serac.
The 4th edition of the West Africa Agro Food attracted hundreds of visitors with a record participation of 90+ exhibitors from twenty-one countries. Visitors discussed their businesses with exhibitors at the French pavilion presenting all of their latest technologies, solutions and products as well participating future partnerships.
The French pavilion organised in partnership with Adepta was held within the frame work of activities lined up in celebration of the 60 years of bilateral relations between Ghana and France.
The CCIFG also organised a Networking Cocktail for members and associates of the Chamber where participants had the opportunity to meet with the French companies present at the French pavilion. The Networking cocktail was held at the CCIFG garden to celebrate the end of the year.
Mrs Delphine Adenot-Owusu, MD, CCIFG said the association will continue to aid in business partnerships using its network to bring business opportunity to Ghana as well as help extend business activity from Ghana abroad.
She said with over 20 business sectors represented, the CCIFG acts as a business support system to its members by providing information and business opportunities through informative events, market studies, product-market testing, prospective missions and trade shows.
"To contribute to business growth for members, CCIFG continues to organize events with its partners to share practical information and create a platform to establish new business partnerships", Mrs Adenot-Owusu explained.