CCIFG organises On-site visit of Golden Exotics Banana Plantation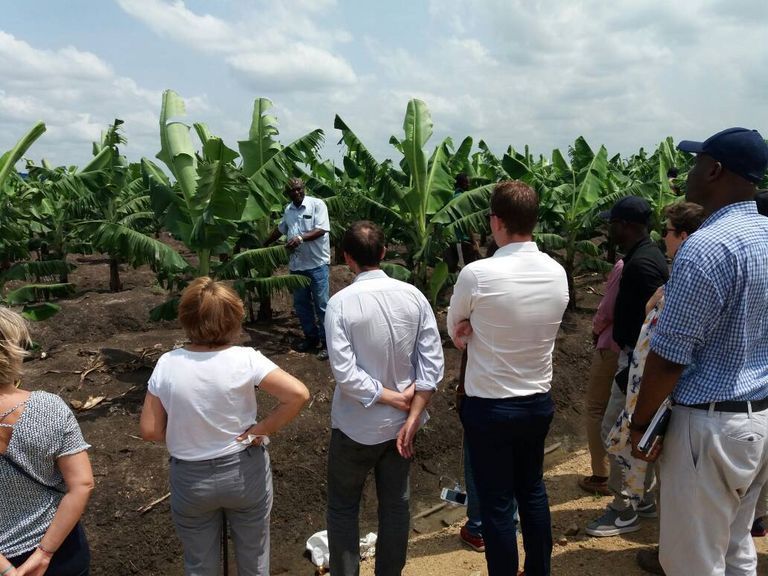 The Chamber of Commerce and Industry France Ghana organised a member-only on-site visit to The Golden Exotic Limited Banana Plantation at Kasunya in the Eastern Region on Tuesday 10th October, 2017.
The on-site visit was organised as part of the two-day activities for the Agro French Touch Conference which is centred on the objective of promoting the agricultural potential of Ghana and showcase the investment being made by French companies to the Ghanaian economy.
The member-only event gathered a delegation of about 30 people. The group were given a presentation of Golden Exotics Limited (GEL) and its activities followed by a comprehensive tour of the 1430 hectares facility. GEL is not just a member of the CCIFG but also the leading plantation of pineapples and bananas in Ghana. Part of the French Group La Compagnie Fruitiere, the company stands as a brilliant example of a long-term commitment between France and Ghana, striving for the development of Ghana and its international recognition. Members got a front row view of one half of the company's objective which is productivity. GEL's involvement in Ghana is built upon a dual dynamic: productivity and corporate social responsibility. In terms of productivity, the company accounts for 90% of Ghana's national banana production, and 20% of the country's pineapple production. Participants also got a view of the company's organic and environmentally friendly agriculture and fair-trade practices.
The member-only onsite visit to the Golden Exotics Banana Plantation is was held in the frame work of the activities lined up in celebration of the "France in Ghana 1957-2017: moving forward together" which marks 60 years of bilateral relations between the two Republics.