CCIFG organises Agro French Touch Conference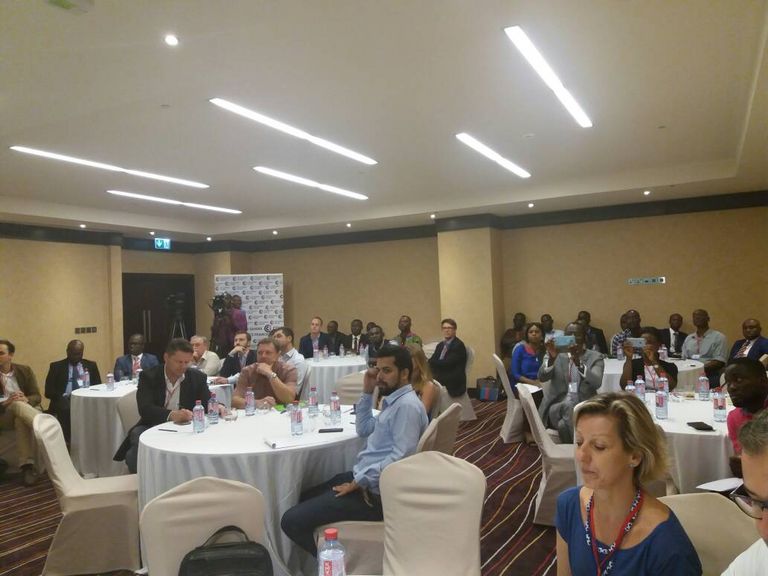 The Chamber of Commerce and Industry France Ghana organised the Agro French Touch conference on the agro and agri-foods industry on Wednesday 11th October, 2017 at the Kempinski Hotel Gold Coast City.
The conference which marked the end of the two-day Agro French touch activities was organised with the objective of promoting the agricultural potential of Ghana, showcase the objective of promoting the agricultural potential of Ghana, showcase the French investment in the industry as well as the potential of the Franco-Ghanaian agro and agri-food industries for businesses and for the Ghanaian economy as a whole.
The event was facilitated by major international players in these industries. Golden Exotics Limited. The MD of the company Olivier Chasing highlighted on the remarkable strides being realised by the company in Ghana. As the no.1 producer and exporter of bananas and pineapples in Ghana, Golden Exotics activities is centred on ensuring the development of organic agriculture for which Ghana is a favourable location. The company engages the community continuously and adheres strongly to the application of local content by employing majority of Ghanaians as employees. The MD of Ghana Rubber Estates Ltd shared with participants its increasing activity in Ghana. Mr Lionel Barre in his speech stated that Ghana is expected to become the second largest producer of rubber in West Africa in the next 20 years. He further emphasised on the company's commitment to the communities in particular through an association with the local chiefs and the provision of rubber-growing areas for local farmers.
On the agri-food sector, a presentation was given by the MD of Danone - Fanmilk, Mr Stephan Couste. He shared the company's impact on their vendors by allowing them through distribution to become micro-entrepreneurs. The company has also begun Plastic waste collection programme with both environmental and economic benefits as its contribution to the country's hygiene and environment. V Mane Fils, one of the world leaders in aromatic products spoke on its decision in choosing Ghana as its regional hub. The company works on the specificity of tastes in Ghana and West Africa to develop its activities in the sub region, but also to find recipes that can be applied in Europe. The series of presentations was concluded by CCIFG who gave more insights on other two other French companies, Touton and Barry Callebaut whose activities in the Agro industry are contributing to the economy.
The Agro French Touch activities was preceded by a member-only onsite visit of the Golden Exotics Limited banana plantation where participants benefited from an exclusive tour of the facility with a short presentation on the activities of Golden Exotics and its contribution the agricultural sector in Ghana.
The Agro French Touch Conference was held in the frame work of the activities lined up in celebration of the "France in Ghana 1957-2017: moving forward together" which marks 60 years of bilateral relations between the two Republics.