The Chamber
CCIFG hosts a business delegation from the Chamber of Commerce and Industry France Morocco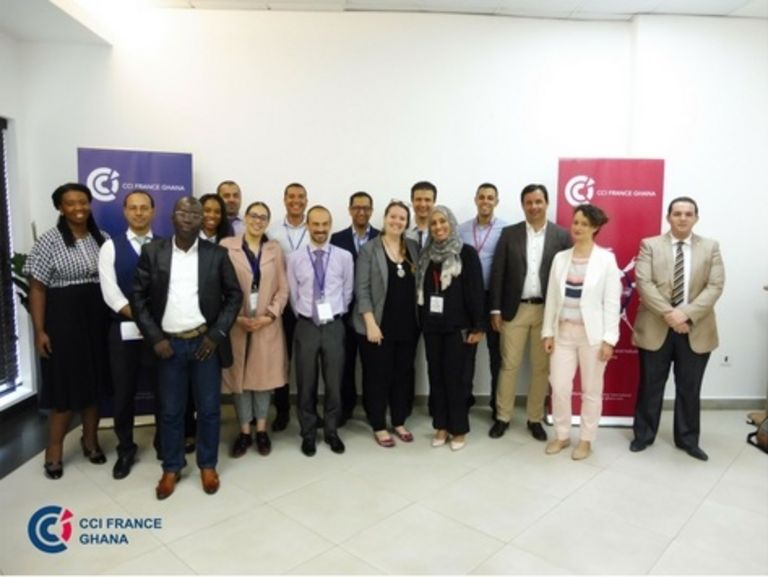 The Chamber of Commerce and Industry France Ghana (CCIFG) hosted the Chamber of Commerce and Industry France Morocco (CFCIM) led delegation of Moroccan businesses to undertake a collective mission with the objective of extending business activity to Ghana from 8th to 10th May 2018.
The collective mission which is the second organised in 2 years by the CCIFG in collaboration with CFCIM has a delegation of business executives from 9 companies representing sectors like health, energy, agro and construction. The objective of the collective mission was to assist the companies to prospect the Ghanaian market while meeting with various companies to hopefully establish viable business relations with and extend business activity to Ghana. Speaking to the press, the CFCIM representative leading the Moroccan delegation Amal Belkhemmar, Head of BtoB missions in Africa and abroad said "this prospect mission aims to set up business meetings with Ghanaian companies to have productive discussions and discover opportunities for trade and partnership.
Following their arrival, the delegation was officially welcomed at a briefing session on the 8th May 2018. Addressing the companies, the Managing Director of the CCIFG, Mrs Delphine Adenot-Owusu gave the delegation an overview of the country highlighting on the rebound of the economy, its strengths and potential that companies can benefit from as a result of doing business in Ghana. She elaborated on the importance of the mission saying that it the goal is to present to the Moroccan operators the Ghanaian market, the sectors that bring in added value to the market and the projects in progress as well as a first-hand experience of how these projects are faring. She continued stating the importance of developing South South business relations and that it is made possible thanks to the wide and strong CCI France international network (made of 120 CCIs in 90 countries).
The delegation was then given insight by the Managing Director of Logiplus, Mr Celestino Alvarez Neira on import and export to and from Ghana. He also elaborated on tax regulations and requirements, as well as the procedure, particularly from an administrative point of view, to extend business activity to Ghana and to establish business activity in Ghana.
Commenting on the mission, Mr Anass El Fantroussi, Certifications Director for Francophone Africa at Bureau Veritas Maroc and member of the business delegation explained that this mission, which is part of the Kingdom's policy to open up more to the African continent, allows Moroccan investors to discover the Ghanaian market and to position oneself on new markets.
The CFCIM led delegation was made up of 9 companies namely Bottu, Bureau Veritas Maroc, Complexe Industriel et Commerce Bel Hassan S.A. (C.I.B.E.L), Compagnie Marocaine de Plâtre et d'Enduit (CMPE), CS Transfo, Douar & Den SARL, Generizon, Midav and Somafaco. The companies will have visited various companies in various sectors during this 3-day mission. This collective mission is one of a series of collective missions being organised in collaboration with other CCIs abroad.