Publications • Members
Stratcomm Africa Partners with Ct Productions to Publish The Economist's Pioneer Project on Ghana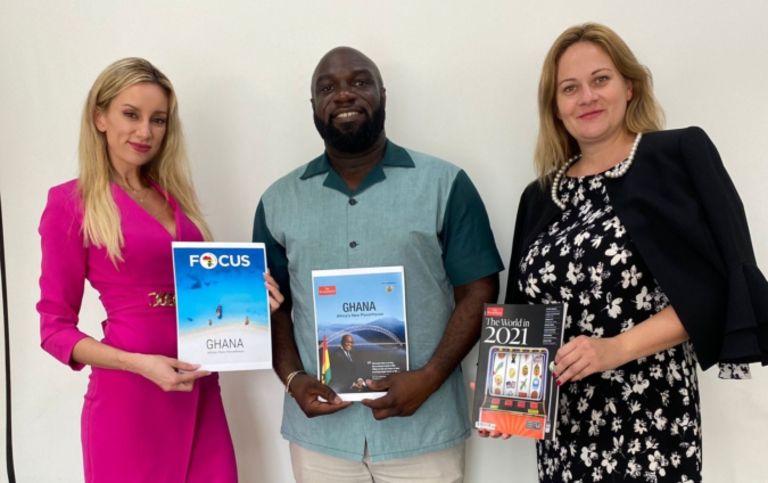 GHANA - AFRICA'S NEW POWERHOUSE
This year CT Productions, the Official Agent for The Economist Group in West Africa, will publish the Economist's pioneer project on Ghana. It will highlight the country's impressive performance - especially during a pandemic that negatively impacted so many other economies.

The project will focus on leading companies and stories surrounding Ghana's most promising economic sectors: financial services, fintech, manufacturing, agriculture to name a few. Advertising opportunities are being provided to local companies through the Economist Group's prestigious platforms. The publication will highlight key success stories and sectors with the biggest potential for growth in Ghana and West Africa. The editorial teams will ensure that the Ghana narrative is delivered in a manner that amplifies the success of the country's recent growth. Ghana's 4.8% GDP growth in 2021 is a sharp rise from the 1.3% growth in 2020 when the pandemic was at its peak.
The reported growth of Ghana's real estate industry, a revamped services sector and key government interventions are part of reasons why CT Productions refers to Ghana as "the new powerhouse of the African continent".

The Economist has a global circulation of 1.65 million in print and digital readership of over 16 million unique online users.

CT Productions is partnering with Ghana's premier total communications agency - Strategic Communications Africa Limited (Stratcomm Africa) to create this platform for Ghana to showcase its growing private and public sectors to the world.

Stratcomm Africa's Executive Director , Business Development, Kofi Baah-Boakye, says, "Stratcomm Africa is delighted to be part of this important project for the Economist magazine. At Stratcomm Africa, we believe that communication excellence is vital for Africa's prosperity and our partnering CT Productions for this project is aimed at helping Ghana to project itself through this well-known global medium, The Economist."

Camelia Oros Tsarouchis, Managing Director at CT Productions expressed her pleasure with this project: "We at CT Productions are very excited to be a part of Ghana's success story and are looking forward showcasing all that this resourceful country has to offer the world. Through our publications and our strategic collaboration with Stratcomm Africa, we hope to bridge the gap between businesses, consumers and investors to reinforce the message of Ghana being the tourism and business gateway to West Africa."

About CT Productions
CT Productions – an international creative agency that produces promotional features, country reports, research papers, in-house publications alongside film production is the official agent for The Economist Group in selected countries across the globe with active projects in Nigeria, Ghana, Côte d'Ivoire, Zambia, and Mauritius amongst others.

About Stratcomm Africa
Stratcomm Africa is Ghana's premier end-to-end marketing communications agency with over two and a half decades of experience in providing communication support to individuals and organisations, public and private, local and international, with award winning success. Stratcomm Africa offers services in Public Relations and Reputation Management, Digital Communications including Social Media Management, Advertising and Marketing, Communication for Development (C4D), Activations and Event Management, Communication Research, Training and Facilitation. Stratcomm Africa specializes in evolving and implementing integrated communications strategies and is focused on promoting excellence in communication as an essential tool for Africa's prosperity in this digital age.