Tourisme - Loisir - Culture
Staycation Wellness Retreat with Labadi Beach Hotel and Ariel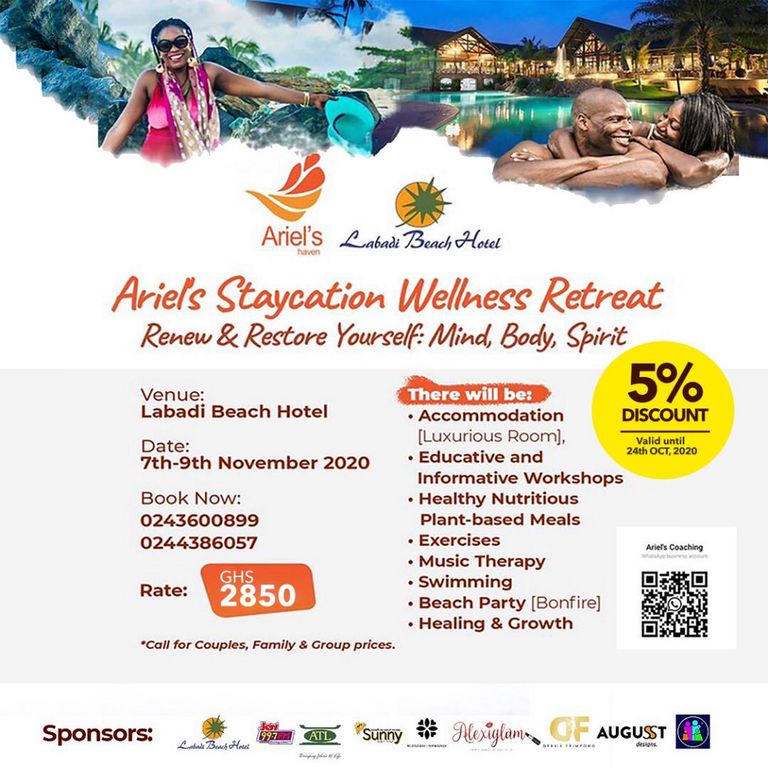 Ariel's Coaching in collaboration with the Labadi Beach Hotel is hosting a "STAYCATION Wellness Retreat" from the 7th - 9th, November 2020
The purpose of this event is to empower your employees to reflect on their lives, refocus on their purpose, and importantly, create a positive and fulfilling lifestyle in the work environment.
It has been an extraordinary year and we cannot overlook the impact COVID-19 has had on society, organizations, the nation, and the world as a whole. This retreat aims to enable the participants to rejuvenate, revitalize, and reenergize from fear and anxiety.
Stress, Fear, Anxiety, and Disappointment in society have affected the Mind, Body, and Spirit of most of us. Physically, our bodies have had to be forced to live with conditions we were not used to, Mentally, our minds have had to process questions and emotions we were never prepared for, and spiritually we have questioned our faith and meaning in life. The negative effect of these experiences has a great impact on our health and total wellbeing.
Children and Adults have had some negative experiences this year. It is the responsibility of the wellness community that holds a holistic and positive approach to life to step in and organize workshops, seminars, and retreats to help people renew their minds, perspectives, and be resilient in the face of adversity. I am humbled to take on such initiatives to help, as we re-orient ourselves for the new normal.
The theme for the STAYCATION Wellness Retreat is "RENEW & RESTORE YOURSELF – MIND BODY SPIRIT", this retreat will host workshops, fitness activities, and positive experiences to promote total wellbeing - mind, body, and spirit. At the end of the retreat, we will be equipped with a positive long term mindset and also acquire practical tips to manage stress and health in the face of uncertainty. The retreat will help to cultivate calm, develop tools and practices to meaningfully care for ourselves, and find support from a conscious community.
In today's competitive employment environment, every advantage can make a difference. That's one reason employee wellness and performance programs have become a popular means of providing physical as well as psychological benefits to employees and employers.
Ariel, the Wellness Coach offers comprehensive on-site Wellness Services including Coaching to enable happy, healthy employees so they can contribute to their Company's goals. Minimizing stress and causing a series of increasing energy with positive effects throughout the entire organization is paramount for your company's synergy.
Ariel hereby invites you to the Staycation Wellness Retreat at the Labadi Beach Hotel on the 7th of November to the 9th of November 2020. This retreat will offer a variety of highly effective and practical tools and activities to enhance the wellbeing and health of your employees; thereby maintaining your company's competitive edge.
Together with your organization, we believe we can bring about preventive measures by trending towards prevention and promoting a healthy lifestyle for the employees. Ariel is focused on creating a wellness-oriented lifestyle through a deliberate self-care plan. Your organization stands to benefit productively, and also, have a positive financial impact
as professionals are educated on Work/Life Balance and bringing wellness to the workplace to enable them to live a healthier life at work.
Download the Order of Activities here
COVID-19 Preventive Measures
COVID-19 preventive measures will be upheld to ensure the safety and wellbeing of all participants, below is a list of measures the organizers of the event have put together.
● Participants will be scanned upon arrival at the Hotel.
● Participants will be required to use Nose Masks and Hand Sanitizers.
● Participants will be encouraged to wash their hands regularly after every activity and upon entering and exiting their rooms.
● There will be adequate seating spaces [5 feet] during workshops and activities.

Please feel free to contact Ariel on 0244386057 to further discuss and understand how Ariel together with your human resources team can make this Workplace Wellness Program a productive and positive experience for your Employees.