Publications • Members
Société Générale Gets 5-Star Rating in Customer Satisfaction Report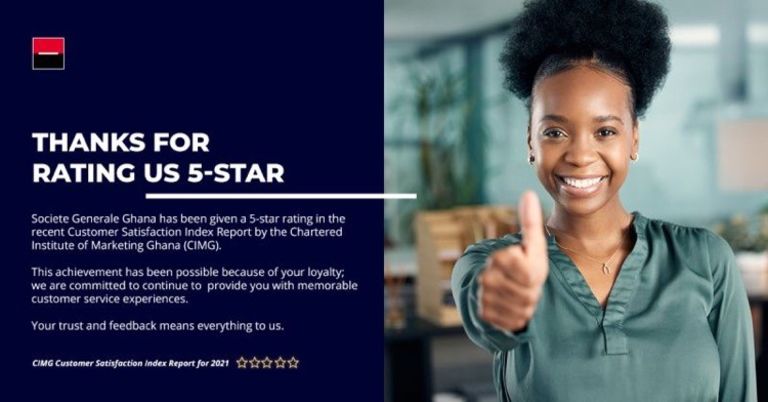 CIMG Customer Satisfaction index report for 2021 ⭐⭐⭐⭐⭐
Following the release of the Chartered Institute of Marketing Ghana (CIMG) Customer Satisfaction Index Report for 2021, we are pleased to announce that Société Générale Ghana PLC, achieved a 5-star rating and overall ranking as 3rd best bank in customer satisfaction.

The overall ranking of the CIMG customer satisfaction survey was a reflection of the voice of customers from 22 banks and a versatile analysis of various industry service satisfaction indicators.

On this accomplishment, Management wishes to appreciate you for your continued loyalty and patronage. This vote of confidence will spur us on as we strive to continuously improve and further enhance our service delivery to you.

We at Société Générale Ghana PLC are truly grateful for your support over the years.

THE FUTURE IS YOU.
SOURCE ➡LinkedIn|Societe Generale Ghana