Sectors & markets
Paperless Port boosts half-year import revenue - revenue hits GHȼ 5,798 million in June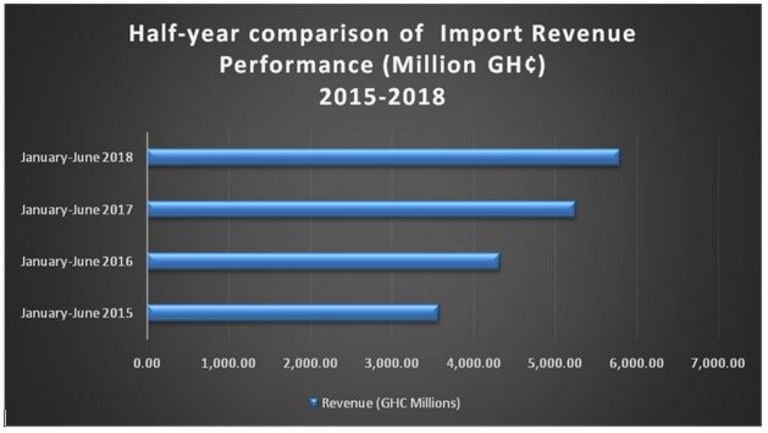 Implementation of the National Single Window and Paperless Port System at the country's sea ports is gradually yielding results to the admiration of importers and stakeholders.
Analysis of the Monthly Import Performance of the Customs Division of the Ghana Revenue Authority (GRA) between 2015 and mid-year 2018, has revealed that the amount of revenue realised from imports has been increasing year-on-year.
The growth in revenue realised from imports over the period can largely be attributed to the strengthening of the Single Window System at the country's ports in September 2015 and the recent implementation of the Paperless Port System at the country's sea ports.
Total import revenue realised for half year 2015 was GHȼ3,584.11 million. This however, increased to GHȼ 4,330.26 million by June 2016.
A further increase from GHȼ 4,330.26 million in June 2016 to GHȼ 5,252.43 in June 2017 was recorded.
For the first half of this year, about GHȼ5,798.76 million has been collected for the state from importers. The GRA projects a 30 percent growth in revenue by close of the year.
Some importers who spoke to the press urged government to do all it can to make the paperless ports work by supporting the existing vendors (West blue and GCNet) as well as the other stake holders to deliver.
Government has rolled numerous interventions in recent months as part of efforts to maximise the socio-economic gains of the maritime sectors.
Among them include the reduction in the number of inspections agencies at the port, the paperless clearance of goods as well as the scrapping of barriers along trade corridors.
The Single Window and paperless regime according to the University of Ghana Business School report saw port inspection agencies reduced from 16 agencies to 3 (GRA-Customs Division, GSA, FDA) to reduce clearing time, efficient Revenue Collection resulting in24 per cent increase in government collections and Ghana saves $500 million since its implementation in 2016.
It has also led to the reduction in the payment of demurrage by 17.5% in 2017, according to Ghana Shippers Authority
Over 60% of goods cleared within 48 hours, removal of Customs internal barriers on all the transit corridors, eliminated of Long Room, eliminated of human interventions in port transactions among others.