Health • Publications • Members Santé - médical - pharmaceutique
Euracare Doctors Safely Conduct West Africa's First MRI Study in a Patient with a Pacemaker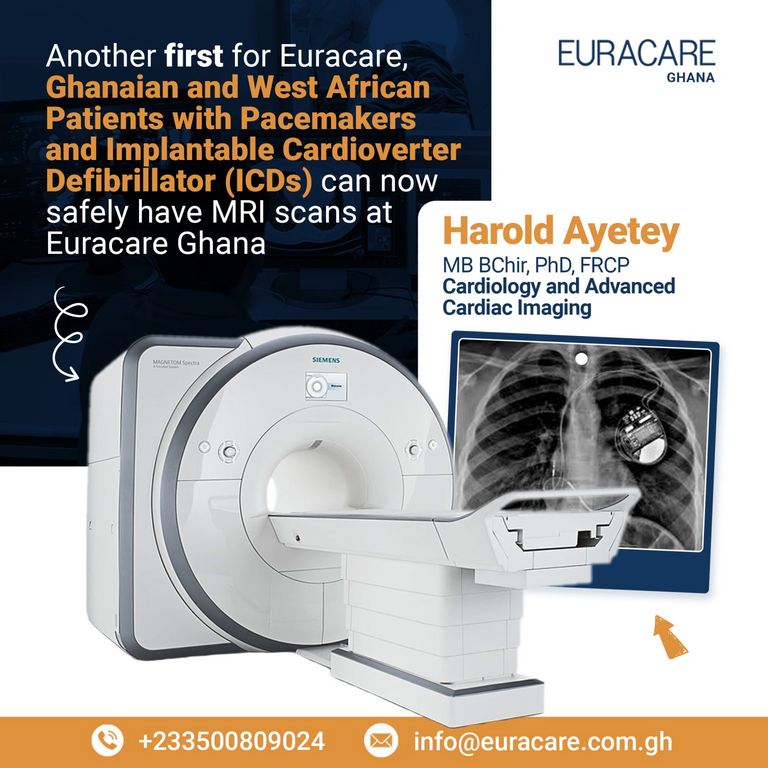 Ghanaian and West African patients with Pacemakers and Implantable Cardioverter Defibrillator (ICDs) can now safely have MRI scans at Euracare Ghana
On Monday 6th February, Dr Harold Ayetey MD, PhD, FRCP MB BChir (Cantab), PhD (Cantab), FRCP (Cardiologist and Advanced Cardiac Imaging Specialist) and his team, BIJU RAJ (Radiographer) and Ruan Haycock (Cardiac physiologist) safely conducted West Africa's first MRI study in a patient with a pacemaker.
They appropriately reprogrammed a Medtronic dual chamber pacemaker and configured their MRI protocols to ensure patient and device safety. This new step in Ghana opens up big possibilities for patients in Ghana and the broader West Africa region with pacemakers requiring MRI scans for strokes, heart conditions, prostate disease and a host of other problems.

Pacemakers are devices inserted into the heart to correct abnormal heart rhythms such as complete heart block. Historically MRI imaging in patients with pacemakers has not been possible. Device manufacturers such as Medtronic and many others have in recent years been able to manufacture pacemakers which can be safe in MRI scanners. However, these pacemakers have to be reprogrammed to be safe during MRI imaging. Crucially, the MRI scanning protocols must then be set up to meet the MR conditions specified by the implant. Patient safety is essential in these patients with serious underlying heart rhythm problems but can be achieved with good collaboration between cardiac specialists, imaging specialists and device manufacturers.