EDF Pulse Africa Award calls for projects on SMEs and start-ups in Ghana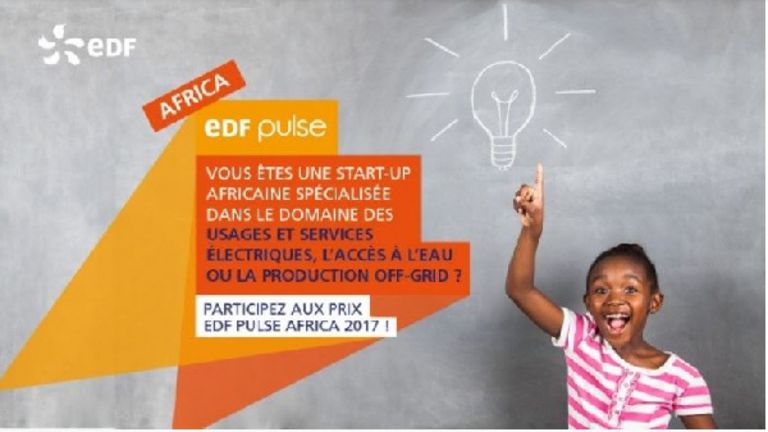 EDF Pulse Africa Award Competition is calling for projects targeting African SME and start-up companies from Ghana.
From 29 May to 8 July 2019, EDF invites African SME and start-up companies to participate in a call for projects as part of the third edition of EDF Pulse Africa Competition Award.
Key objectives include; spotlighting and supporting African entrepreneurs committed to the development of African energy industry, endowments ranging from 5000 to 15000 Euros as well as a comprehensive support programme are at stake.
The 3rd edition of the EDF Pulse Africa Awards aims at spotlight African entrepreneurs committed to developing the African energy industry.
For over a month, SME with less than 50 employees and start-up companies are invited to participate in three categories: off-grid power generation; electrical power applications and services; access to water through the use of electricity (farming and drinking water).
For this 3rd edition, EDF innovates for the sake of SME and start-up companies from 7 countries where the EDF group operates, including Ghana.
Following a project-screening through the registration platform (www.africa-pulse.edf.com), entrants from Ghana will be invited to present their projects to a local panel of experts on September 17th, 2019.
This will be arranged in conjunction with African incubators and institutional partners.
Selected projects will directly be entered into the final stage of the competition, which will take place in Paris.
"Since the launch of the EDF Pulse Africa Award Competition in 2017, EDF has provided 8 African start-ups with support. In its first two years of existence, the competition also helped us to build up a network of African incubators and training organisations to provide continuous and locally-based oversight. We are now making the competition's framework evolve in order to reveal, directly in the field, new technologies and products that will address the African continent's energy challenges as well as aligning them with our business portfolio in Africa". Valérie Levkov, EDF's Senior Vice President in charge of the Group's Africa business said.
"EDF Pulse Africa 2018" in Ghana
Last year, the 2nd prize was given to Black Star Energy Ltd, a company based in Ghana and specialized in the development of mini-grids. The company already operates 15 of them in the country serving 6500 people living in rural communities in the Ashanti region.
The system has a very high capability factor (over 98%) and allows clients to track their energy usage and pay their bills via smartphone.
The company also launched a successful leasing program in 2018 allowing their customers to lease high-quality energy efficient freezers at a low cost so that they can start up businesses in their communities.