Ecobank And Allianz Insurance Enter Into Bancassurance Partnership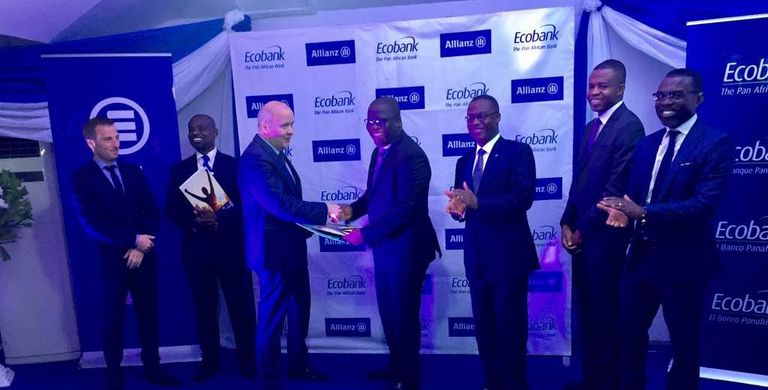 Ecobank Ghana has today entered into a strategic partnership with Allianz Insurance, a major player in the financial and insurance industry in Ghana, to distribute general insurance products and services to customers in the bank's banking halls and also via the bank's digital channels.
This was done at a brief but colorful ceremony, held at the bank's Head Office in Accra, exclusively for the media, a cross section of customers, and the management and staff members of both companies.
This arrangement is aimed at making the products and services of Allianz Insurance accessible at all outlets of Ecobank. The initial products under this partnership include Comprehensive and Third-Party Motor Insurance Policies. The partners have also agreed to eventually roll out a wider range of general insurance products, such as; Home Protection, Travel Insurance and Card Protection in the next few months.
Customers and the general public can therefore take advantage of this partnership to patronize general insurance products and services at Ecobank, where they have the added benefit of making premium payments via a variety of Ecobank's electronic channels.
Speaking at the ceremony, the Managing Director of Ecobank Ghana, Dan Sackey said; "today's ceremony will no doubt generate further consumer trust and confidence in the insurance industry of Ghana, in view of the strong brand of our two institutions in this partnership. It is such trust that consumers desire in their patronage of insurance and banking services globally. Ecobank will continue to seek new and innovative ways of catering to the needs of our customers and to gradually become a 'one stop shop' where our customers can conveniently access solutions for their lifetime financial needs, whenever wherever".
On his part, Patrick Prado, Managing Director of Allianz Ghana remarked that; "As a wholly owned subsidiary of the Allianz Group, Allianz Insurance entered the Ghanaian insurance market in 2009 and has since grown its customer base tremendously. We continue to provide our customers with best-in-class insurance products and services. In line with our rapid growth strategy in Ghana, Allianz is today partnering Ecobank to help grow our general insurance portfolio. The products we offer under this partnership are expected to play a crucial role in alleviating people's fear of sudden misfortune by mitigating their loss through financial compensation. By extension, it will contribute to the social protection of the citizens and enhance their financial security and thereby give them the necessary peace of mind. Allianz and Ecobank share the same common philosophy of commitment, responsibility, team spirit and innovation which will translate into a sense of security and peace of mind for our customers, encourage loss mitigation and increase prosperity for them".
Presenting the technical aspects of the initial products on offer to the media, the Deputy Managing Director of Allianz, Martin Amoah, said; This policy is designed to offer our cherished customers much wider convenience in terms of coverage and limits within the Road Traffic Act in Ghana. The product covers motor third party-related liabilities with options for customers to upgrade for comprehensive cover. Under the full bouquet, we provide cover for; Injury & death to third parties, Damage to third party properties, Loss of income, Legal costs of defending a claim, Personal accident cover, Loss to insured car due to theft or burglary, Accidental damage, Ecowas Extension, among others.