The Chamber • Services
CTFCI Collective Prospective Mission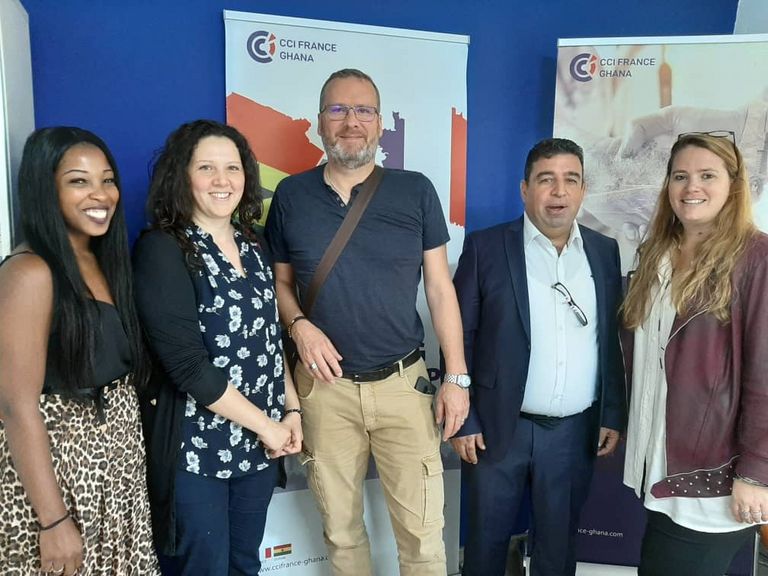 The Chamber of Commerce and Industry France Ghana (CCIFG) hosted the business delegation from the Tunisian French Chamber of Commerce and Industry (CTFCI)
The Chamber of Commerce and Industry France Ghana (CCIFG) hosted the business delegation from the Tunisian French Chamber of Commerce and Industry (CTFCI) from 21st to 24th October 2019.
The collective prospective mission which is the third organised this year by the CCIFG with CCI France International network and the first in collaboration with CTFCI. It follows the Ghana tour organised earlier this year in April during which the managing director went to introduce Ghanaian business opportunities in France, Morocco and Tunisia within the French chambers of commerce network.
The delegation of CTFCI was composed of 4 business executives from 2 companies representing two sectors namely pharmaceutical and agro-processing. The objective of the collective mission was to assist companies to prospect the Ghanaian market while meeting with various companies to hopefully establish viable business relations with and extend business activity to Ghana.
Following their arrival, the delegation was officially welcomed at a briefing session on the 21st October 2019 at the offices of CCIFG. Addressing the companies, the Managing Director of the CCIFG, Mrs Delphine Adenot-Owusu gave the delegation an overview of the country highlighting on the rebound of the economy, its strengths and potential that companies can benefit from as a result of doing business in Ghana. She elaborated on the importance of the mission saying that the goal is to present to the Tunisian operators the Ghanaian market, the sectors that bring in added value to the market and the projects in progress as well as a first-hand experience of how these projects are faring.
The companies have visited various companies in the pharmaceutical and agro-processing sectors during this 4-day mission.
This collective missions and the Ghana days tours are part of the effort of CCIFG to serve as promoter of the Ghanaian market, and to put Ghana on the map within CCIFI large international network as well as bridge the gap between Ghana and France.
CCI France Ghana
The Chamber of Commerce and Industry France Ghana is a private association of 150+ companies and professionals belonging to different sectors which aims at supporting, fostering and enhancing bilateral trade and investment relations between French and Ghanaian companies. With over 20 business sectors represented, the CCIFG acts as a business support system to its members by providing information through market studies, product-market testing, prospective missions and trade shows.
The promotion of the Ghanaian market and the collaboration with other CCIs to allow the injection of businesses into the country as well as creating a platform to establish business partnerships is among the core business of the Chamber.