Publications • Members Transport - Logistique
CMA CGM Introduces New, Fully Digital, Simplified Spot Pricing Solution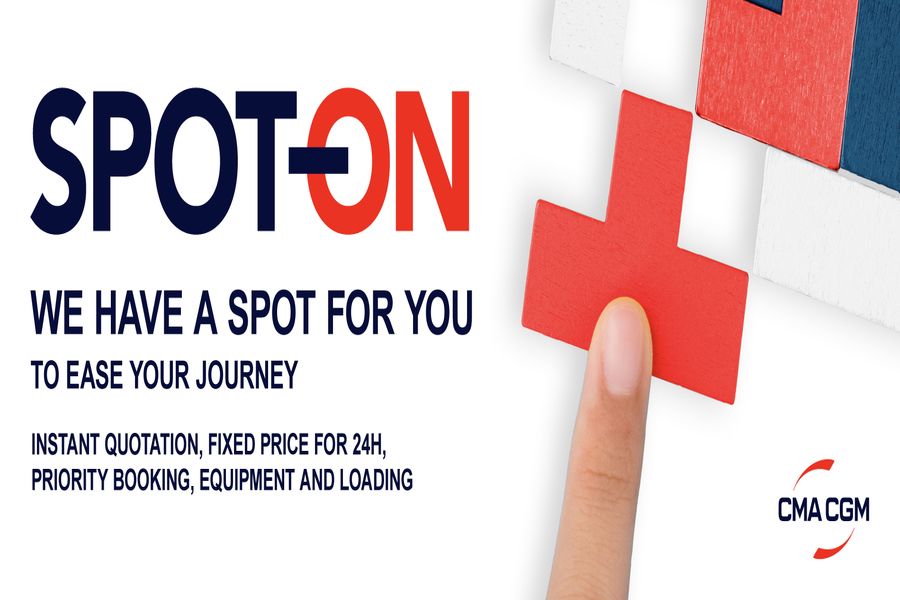 Digitalize and simplify your pricing with SpotOn!
When it comes to cargo transportation, you may be faced with many uncertainties during your booking request: variable or unavailable quotations or even cancellations due to lack of space on board...
This is why CMA CGM is transforming their pricing offer with SpotOn!
A new fully online service available in a few clicks on My CMA CGM*, which will simplify your spot booking process thanks to an instant quote with a guaranteed price, and priority access to space on board the ship as soon as the booking is confirmed!
SpotOn: A 24-hour fixed quote with priority booking, equipment, and loading
Thanks to a fully digital, intuitive and dynamic process that allows CMA CGM to best adapt to your needs, you will benefit from:
An instant quote for a given trip with a transparent price guaranteed for 24 hours.
Priority on container availability upon confirmation of booking.
Priority on space and loading on board at the port of departure to speed up your shipments.
Direct access to CMA CGM+, a value-added services range designed to support your cargo, boost your business or act towards carbon neutrality.
The SpotOn offer is progressively being extended to shippers on all CMA CGM Group maritime trades.
Over 6,300 clients have adopted Spot On! Click here to learn more.
*Also available on My CNC, My ANL and My APL eCommerce platforms*