Members
Christophe Monmarché Wins Award for CEO of the Year - 2021 Ghana Shippers' Awards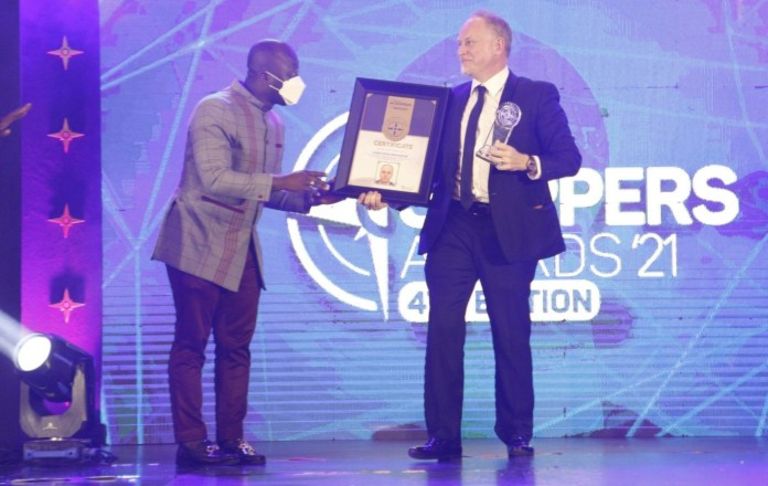 CEO of SevenLog Limited, a shipping & logistics service provider, awarded CEO of the year at the 4th Ghana Shippers' Awards 21...
Christophe Monmarché, CEO of CCIFG member company, SevenLog, has won the award for CEO of the Year at the just ended 4th Shippers' Awards.
The Ghana Shippers' Awards provides a platform to recognize individuals and companies that play a significant role in the growth and development of the industry while recognising the key functions within the industry that promote growth and sustainability.
The awards which cut across road transportation, ocean carriers, air transportation, freight forwarding, shipping agents, express services, courier agencies, government agencies, insurance and financial institutions aim to recognise distinction in the field, and also to promote the interests of the industry - nationally and internationally.
The 4th edition which is under the auspices of the Ministry of Transport is in partnership with the Ghana Shippers Authority and supported by the Ghana Ports and Harbours Authority, Ghana Maritime Authority and the Graphic Communications Group Limited.
The awards ceremony, which took place on Friday, October 1, 2021 awarded organizations and individuals in categories which included best trade facilitation organization, excellence in innovation and technology company, container line of the year, international express operator, break bulk operator, air fright solutions provider and sea freight solutions.
The 4th Ghana Shippers Awards was organised by Globe Productions in partnership with the GSA, Maritime Authority, GPHA with support from the Graphic News App plus.