CEO of Bolloré Transport & Logistics visits the Tema Port expansion project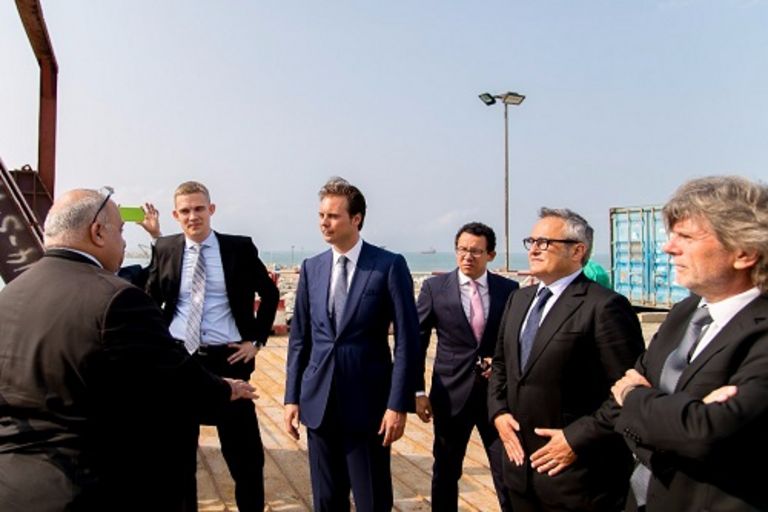 Cyrille Bolloré, CEO of Bolloré Transport & Logistics, has visited the Port of Tema in Ghana. He was hosted by Mohamed Samara, CEO of Meridian Port Services (MPS) and senior executives of the Group.
Less than a year from the commercial go-live planned on June 28, 2019. His visit was to monitor the work progress of the Tema Port Expansion project, which remains the largest port investment of the Atlantic coast of Africa.
The visit came nearly a month after MPS, the joint venture consisting of Bolloré Transport & Logistics, APM Terminals and the Government of Ghana through the Ghana Ports and Harbours Authority (GPHA), drew its first $ 100 million arranged by the International Finance Corporation (IFC), a member of the World Bank.
This funding will enable MPS to continue to execute the Tema Port Expansion Project and develop a state-of-the-art port facility meeting the highest international standards.
As the most important public-private partnership in Ghana's history, the new port of Tema will be able to accommodate next-generation ships (up to 18,000 TEUs) and handle the increasing flows of goods to and from Ghana and the hinterland.
The new Port of Tema will significantly boost economic growth and trade revenues for local companies with an estimated US$ 1.1 billion rise in global value added to the Ghanaian economy and around 450,000 indirect jobs generated.
MPS is carrying out this project within the GPHA Master Plan for the development of Tema Port. It follows the signature in 2004 of the Concession Agreement that provides for the construction of Ghana's largest deep-sea port.
Equipped with the latest generation infrastructure and equipment, it will help connect African markets to the global supply chain and develop new business opportunities.