Banking & Finance Finance - Assurance - Banque
CAL Asset Management Deepens Capital Market with Launch of Two Unit Trusts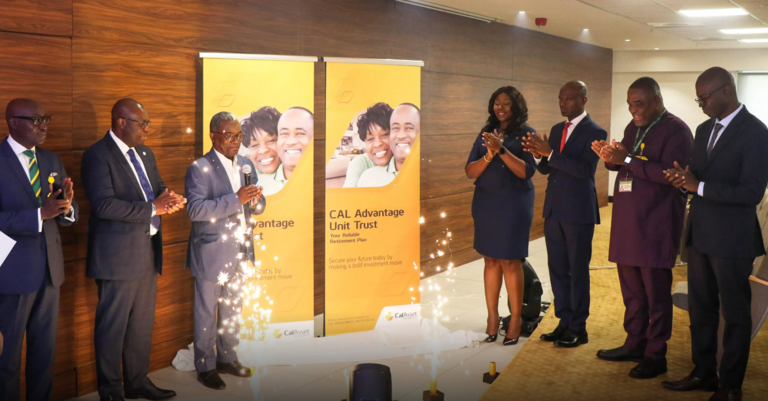 Cal Bank has unveiled two unique Collective Investment Scheme (CIS) products in a move guaranteed to deepen the domestic capital market...
Leading Fund Manager and the asset management arm of Cal Bank – Cal Asset Management Company Limited (CAMCOL) – has unveilled two unique Collective Investment Scheme (CIS) products in a move guaranteed to deepen the domestic capital market.
In his remarks during the launch at the Head Office in Accra, Chief Executive Officer (CEO) of CAMCOL James Elijah Donkoh explained that introducing the two products – the CAL Advantage Unit Trust and CAL Benefit Unit Trust – form part of his outfit's medium-term goals.
He added that the move is also in consonance with the Security and Exchange Commission's (SECs) aim of making Collective Investment Schemes the default vehicle for retail investors with funds below GH¢100,000, as conveyed in its Capital Market Master Plan (CMMP).
"This is the culmination of recent efforts to engage the retail market more with our investment services… and in direct response to our regulator's vision for the market. We are of the firm conviction that with sound emergency and retirement tools such as these in place, many families' financial demands can be met with little stress," Mr. Donkoh said.
He explained that the CAL Advantage Unit Trust is a medium to long-term investment plan that balances the market risks of unit holders through Fixed Income and Equities instruments, with the aim of providing an additional retirement income stream for investors.
The CAL Benefit Unit Trust, on the other hand, is a fully Fixed Income vehicle that is being positioned as an emergency fund for investors. "We want our clients to stop living on the edge; it is important that they have an emergency fund on hand to be able to deal with the many uncertainties of life without being destabilised," he added.
On his part, Deputy Director-General of the SEC Paul Ababio stated that introducing the additional products onto the market will afford investors an opportunity to navigate the current landscape by managing their risk exposure. "Recent developments require that investors remain open to risk adaptation, dynamic implementation of their investment strategy, and quick identification of sources of stability," he said, adding that investing through CISs minimises single-entity exposure.
He indicated that the introduction of CAL's offerings will take the number of Unit Trusts to 34 from 19 five years ago.
On a similar tangent, Deputy CEO of the National Pensions Regulatory Authority (NPRA) David Tetteh-Amey Abbey said he is particularly encouraged by the addition of new products to the market, as it gives pension funds more avenues for investment.
This comes as the percentage of pension funds' Assets Under Management (AUM) invested in collective schemes almost doubled from 1.7 percent in 2020 to 3.17 percent in 2021. He entreated all stakeholders to ensure keeping their fiduciary role and professionalism, so as not to jeopardise investor confidence.
The Managing Director of CAL Bank, Philip Owiredu, expressed optimism that the products will boost its subsidiary's business and maintain its increasing contribution to the Group's profitability.