Accra City Hotel wins 4 green Award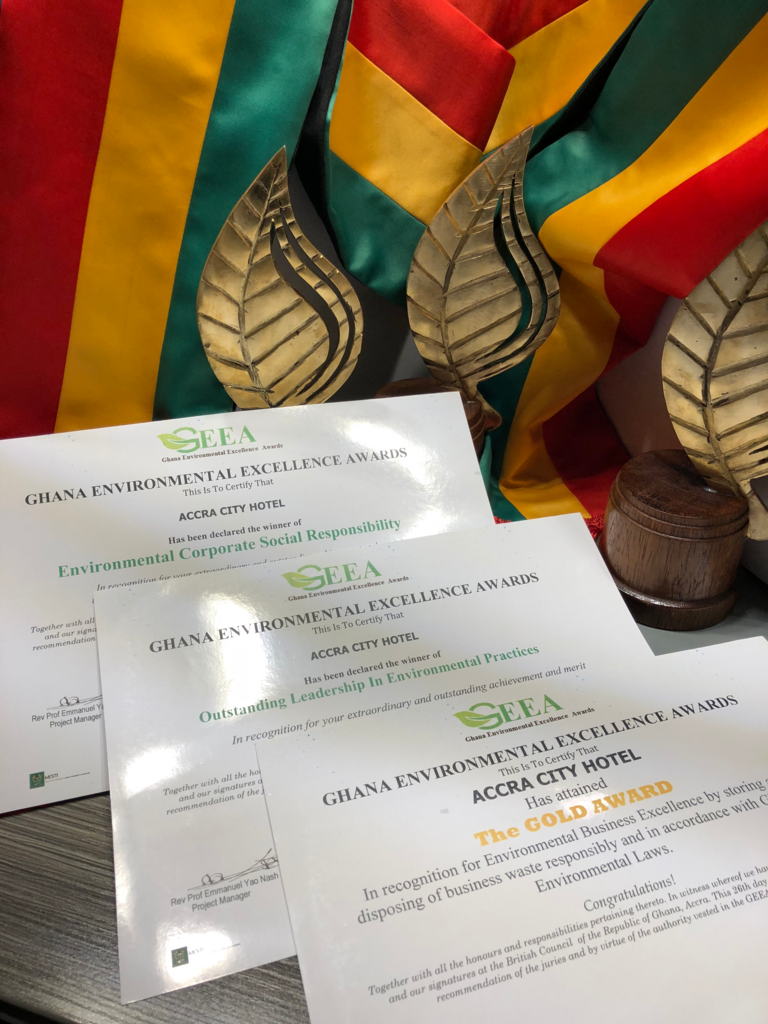 Accra City Hotel, Ghana's most historic four-star and first ISO 14001: 2015 (Environmental Management Systems) certified Hotel in West Africa, has been named the "Environmental Corporate Social Responsibility Hotel" of the Year, Hotel of "Outstanding Leadership in Environmental Practice" and Winner of Gold for "Environmental Business Excellence" in Ghana by Ghana Environmental Excellence Awards 2018.
Beating competition from a variety of hotel companies, the property was judged the greenest hotel in Ghana for innovating and investing in new technology to improve its sustainability and reduce its consumption footprint.
"This is an honor for the entire team at Accra City Hotel," says Roman Krabel, Winner of "Environmental Leadership Excellence Award" 2018 and General Manager of Accra City Hotel. "Our staff is dedicated to providing the best in service and hospitality while simultaneously caring for our surrounding environment. We want to enjoy the beauty of Accra City Hotel…of Ghana…of the World, and be able share this with generation after generation, and we are dedicated to doing all in our power to make sure this is the case."
The annual awards invite applications from hotels of any size anywhere in Ghana, judging them on their efforts to reduce energy and water consumption, their waste output, their roles as responsible businesses to their employees and in the local community, as well as looking at how they communicate their sustainable and responsible ethos to guests.
Jeffrey Martin Ashiamah, ISO Coordinator, Accra City Hotel said "We are so proud to receive these awards, recognizing our reputation as a sustainable, environmentally-friendly Hotel in Ghana. Sustainability has always been a focus from Accra City Hotel, who set clear goals on saving energy, reducing water and using sustainable resources. Long may our efforts continue."
The iconic hotel has bagged several awards for eco-friendly tourism and green initiatives. Earlier this year, it also received the Award "Green Hotel of the Year 2017" from the Ghana Hotels Association and the Award "Highly Commended" from the Green Hotelier Awards 2018 by International Tourism Partnership, London/UK.