A collaborative event between 4 French Chambers in Africa in partnership with LEX Africa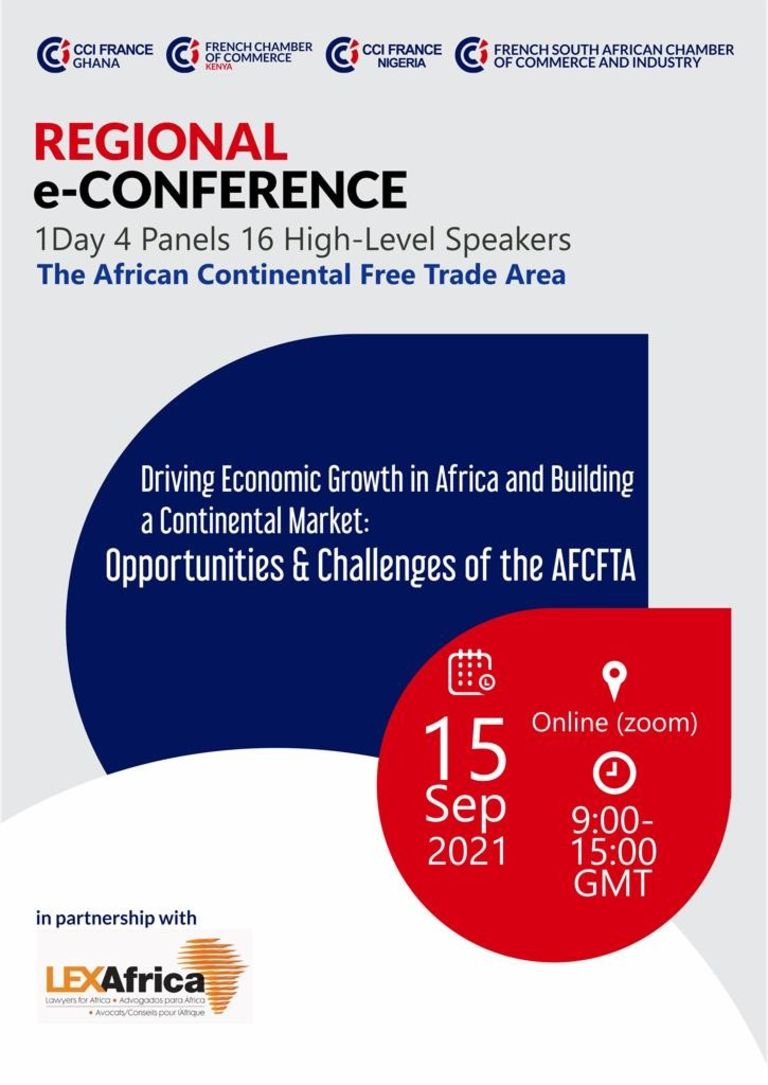 CCI France Ghana in collaboration with the French South African Chamber of Commerce & Industry, the Franco-Nigerian Chamber of Commerce & Industry and the French Chamber of Commerce in Kenya in partnership with LEX Africa will deliver the expertise of 16+ high-level speakers across 4 panels to provide you with the relevant knowledge and insight into the AfCFTA under the theme:
'Driving economic growth in Africa through a continental market: challenges & opportunities of the AfCFTA'
In light of the upcoming African investment conferences and at a time where a drive for economic recovery is needed, this high-level regional event will feature an inaugural panel and 3 regional sessions:
Join us at 1:00pm GMT as we discuss the business opportunities unlocked by the AfCFTA and its legal/tax implications in the context of the West African Region with:
Nana Dufie Addo, COO, Ghana Investment Promotion Center
Francis Adzah, International Business Development Director, Kasapreko
Susan Barbara Kumapley, Partner, Bentsi-Enchill, Letsa & Ankomah (LEX Africa)
Uchenna Okechukwu, Senior Lawyer, Giwa-Osagie & Co (LEX Africa)
About LEX Africa

LEX Africa is a legal network of leading law firms in over 25 African countries and is Africa's largest legal alliance. Each member is an independent law firm whose key specialist focus is on general corporate and commercial law as well as litigation and dispute resolution.
Bentsi-Enchill, Letsa & Ankomah ("BELA") member of the LEX Africa network will provide the legal expertise on the West African Panel Africa Panel.
Bentsi-Enchill, Letsa & Ankomah ("BELA") is a leading corporate and commercial law firm in Ghana with broad expertise and experience in providing first-rate legal services for international and local corporations in all sectors of the economy. They are one of the first Ghanaian firms to offer a full service as well as specialized expertise in a number of key practice areas:
Business and Industry
Construction, Infrastructure and Transport
Energy and Natural Resources
Financial Institutions and Capital Markets
Litigation and Dispute Resolution
Pensions, Employment and Immigration
Technology, Media and Telecommunications
In Partnership With