CCI France Ghana is collaborating with Meridian Port Services (MPS) to organise a member-only onsite visit to the Tema Port Expansion Project on May 22, 2019 from 1:00pm to 3:00pm.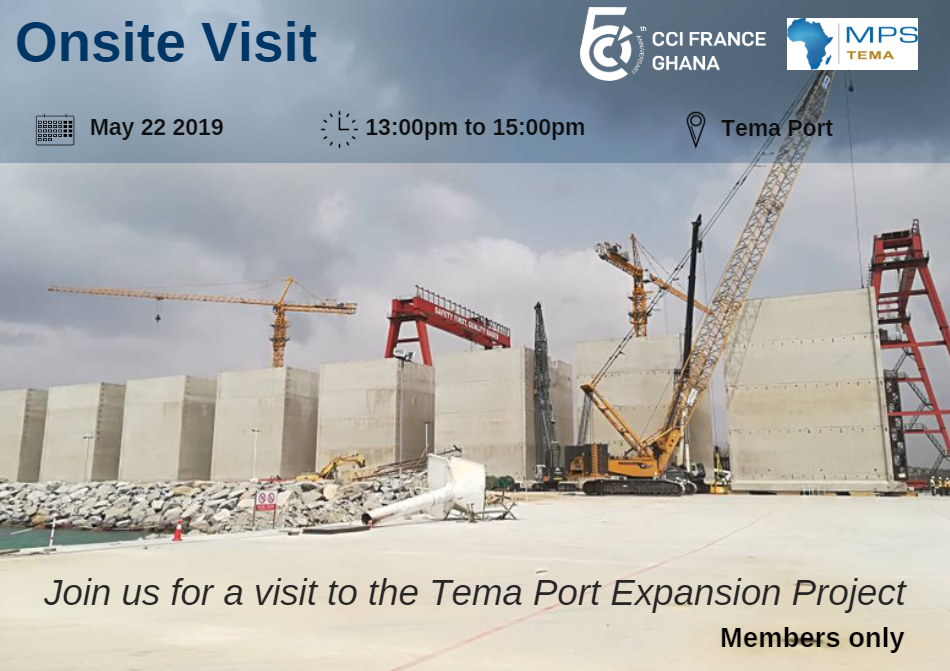 The first visit was organised at the beginning of construction of the first phase of the project. This 2nd visit comes right before first phase becomes operational. Participants will benefit from a tour of the site, see the progress and have a preview of what the potential of the project which is expected to double capacity of the port.
Compulsory Registration
The onsite visit is exclusively for members of the CCIFG and is free for registered participants.
The visit is for a limited number of participants and as such, participation is limited to one representative per company.
Kindly confirm your participation to this event by sending an email to events@ccifranceghana.com by May 20, 2019.
Important Information
In compliance with the safety policies of Meridian Port Services, all participants are required to have their own security shoes. If you have safety helmets/hard hats and yellow vests, kindly bring it along as well.
Kindly note that participants who do not have security shoes will not be allowed to participate in the tour.
All other security gear and equipment will be provided by MPS.
Its is important to note that, there will be no transport provided by CCIFG.
Do not hesitate to contact us for any further information regarding this event.