Corporate-startup partnerships for fintech innovation in Africa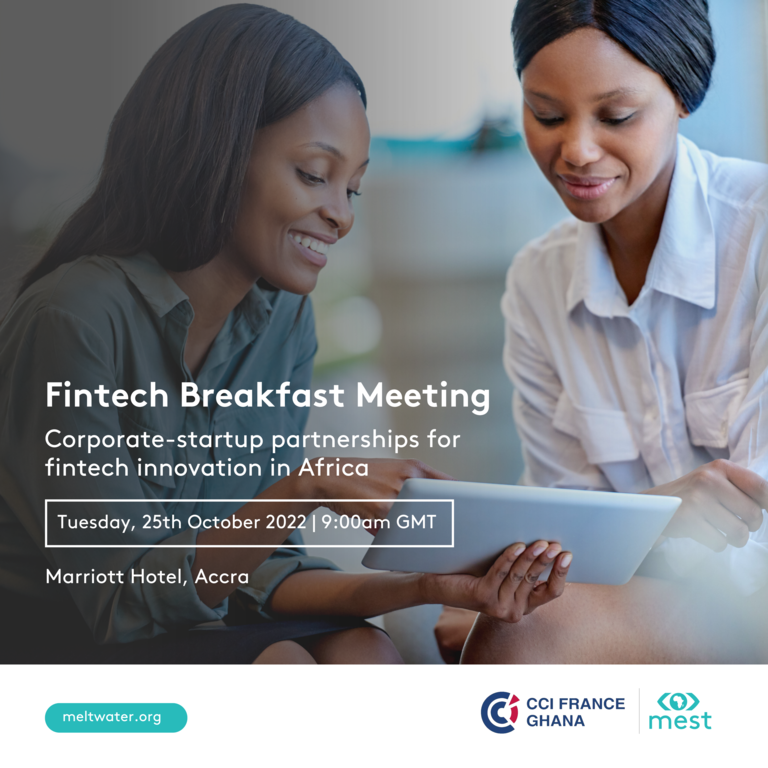 CCI France Ghana in partnership with MEST Africa present the Ghana Fintech Breakfast Meeting themed; "Corporate-startup partnerships for fintech innovation in Africa".
The GhanaFintech Breakfast Meeting aims to connect fintech startups and entrepreneurs to corporates within the industry in order to catalyze corporate- startup partnerships within the industry.
DATE: Tuesday, 25th October 2022
TIME: 9am - 11am
VENUE: Accra Marriott Hotel
Priscilla Wepia Ametame
Priscilla Wepia Ametame is a Legal Associate at B &P Associates, a corporate and commercial law firm set up in Ghana, operational in jurisdictions of Ghana and Nigeria.
Wepia has experience in Alternative Dispute Resolution, Litigation, Commercial Transactions, Company Secretarial & Regulatory Compliance.
She holds certificates in Fintech Law and Policy from Duke University and Financial Markets from Yale University, and has a keen interest in the interplay between Tech and Finance and the untapped potential Ghana has in that area.
Wepia has advised Local and International Fintech startups on Data Protection and Privacy Law and the ways foreign Fintech start-ups can set up shop in Ghana including regulatory and compliance requirements involved. She is an Associate Member of the Chartered Institute of Arbitrators (CIArb) . She was invited by the United Nations Office on Drugs and Crime (UNODC) to sit on a high level panel at the Africa Youth Conference in the Gambia discussing key topics around education and cybercrime.
As a former Director–General for Online Model United Nations (OMUN) a 100% online Edutech startup, Wepia has been directly involved in developing strategies for Start-up-Corporate collaborations. In addition, Wepia was instrumental in pitching to organizations and winning funding for the Adehye Learning Initiative, a social venture aimed at providing technological solutions to corporations whilst creating social change.
Abisola O. Ogunbadejo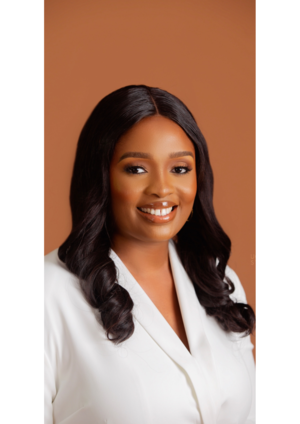 Abisola O. Ogunbadejo is a Senior Associate and Transaction Advisory Lawyer with B&P Associates, a corporate and commercial law firm set up in Ghana, operational in jurisdictions of Ghana and Nigeria.
She has an excellent background and a wealth of experience in advising international and indigenous clients on domestic and cross-border transactions across various sectors such as Corporate M&A, Construction & Infrastructure, Information and Communications Technology, Intellectual Property, Company Secretarial & Regulatory Compliance, Aviation, and Dispute Resolution.
She has also provided leading advisory services to clients across various sectors and industries on how to navigate legal and regulatory compliance for their business operations, corporate restructuring, debt and equity financing, business acquisitions, and the protection of their intellectual property. With a wealth of experience from Nigeria and cross-border transactions involving Ghana and other foreign jurisdictions, she is highly skilled in advising clients on big-ticket transactions and providing cutting-edge legal services to investors globally in various sectors.
Abisola is a Chartered Secretary with the Institute of Chartered Secretary and Administrators Nigeria, holds a CopyrightX Certificate from Harvard Law School and Berkman Klein Center for Internet and Society, and an Associate of the Chartered Institute of Customer Relationship Management.
Abisola is passionate about simplifying legal technicalities. As such, she is consistently seeking innovative and eccentric ways to provide practical and alternative solutions to address clients' needs.
Georgette Amoako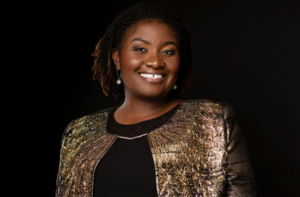 Georgette has worked professionally in the past 20 years with experience from Finance and Marketing.
She joined the then Barclays Bank of Ghana in 2008 as the Events and Protocol Manager. She performed in several roles including event planning and organization, local and international travel organization, public relations, management of social corporate projects. In order for her to diversify professionally, she joined the Business Banking Dept. of Barclays (subsequently Absa Bank Ghana) in 2015 as a Corporate Relationship Manager. This role entailed supporting business account customers with banking and financial advice.
Currently, as the Propositions Manage for SMEs for the bank, she facilitates entrepreneurial training, business and product development, networking and capital access for some SMEs in Ghana.
Solomon Sedinam Agbemenya, PMP,CPMC
(Lean Six Sigma, MBA TQM, ISO/IEC 27001 PI, BCMS 22301 PI | Process Engineer | Strategist & Business Improvement Professional)
solomon.agbemenya@gmail.com | 0243251339
Solomon is the Head of Wallet at Fido. He is a certified Project Management Professional (PMI) and a Certified Project Management Consultant (IPMP, Ghana). He holds an MBA in Total Quality Management from the University of Professional Studies and a BSc in Banking and Finance from Central University. He is a Six Sigma Green and Black belt Professional and a Certified ISO/IEC 27001 and BCMS22301 Lead Implementer.
Solomon was a business advisor for Meltwater through their MEST Africa program where he consulted for SMEs towards their scale up. Prior to joining Fido, Solomon worked with First Atlantic Bank as a Strategist where he was instrumental in developing the bank's digital strategy with an expected net return of +$35m. He was also a key member of the team that led the bank in multiple successful certifications of ISO 27001, PCIDSS and BCMS22301 standards. He also previously worked with Barclays Bank Ghana as a Process Modeler where he received recognition for excellent service. He authored the book, "Optimizing Your Business Operations" and has published six (6) and two (2) editions of the Evangel and Kidz magazine respectively. He was a Young Entrepreneurs Award runner-up in 2018 and Forty Under 40 Awards nominee in 2019. Solomon is married to his Wife -Alfreda and are both blessed with a daughter called Soleia.