A collaboration of French Chambers & Mazars in Abu Dhabi, Botswana, Dubai, Egypt, Ghana, Kenya, Mozambique, Nigeria, Qatar, South Africa & Tanzania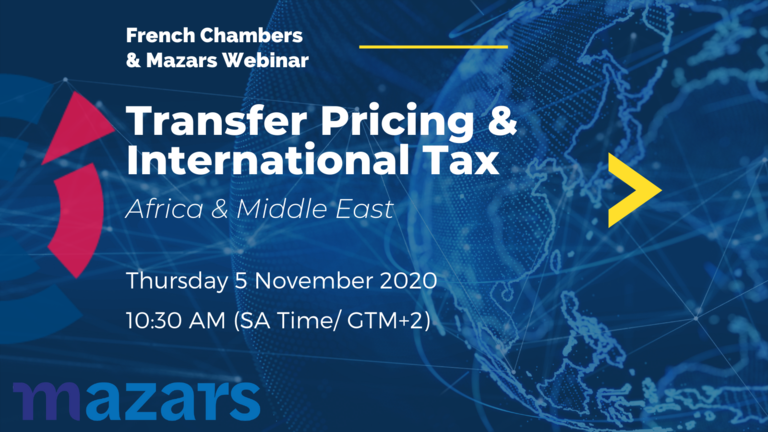 In partnership with Mazars, the French Chambers of Commerce & Industry in Africa and the Middle East organize an exceptional regional webinar
Topic: Transfer Pricing and International Tax
Date: Thursday 5th of November 2020 at 08:30am (GTM).
This event is brought to you by the French Chambers and Mazars offices in Abu Dhabi, Botswana, Dubai, Egypt, Ghana, Kenya, Mozambique, Nigeria, Qatar, South Africa & Tanzania.
The webinar will focus on a Transfer Pricing update of key countries in Africa and the Middle East. The Transfer Pricing session of the webinar will be followed by a Q&A session, after which specific country breakout sessions will be hosted in respect of International Tax wherein which an overview of the specific countries will be provided by regional Mazars tax experts.
Schedule
Thursday 5 November 2020
08:30 - 09:00
Overall Presentation on Transfer Pricing
09:00 - 09:30
Q&A
09:30 - 10:30
Simultaneous Country Specific International Tax Updates
[Botswana, Egypt, Ghana, Kenya, Mozambique, Nigeria, Qatar, South Africa, Tanzania & UAE]
Partners