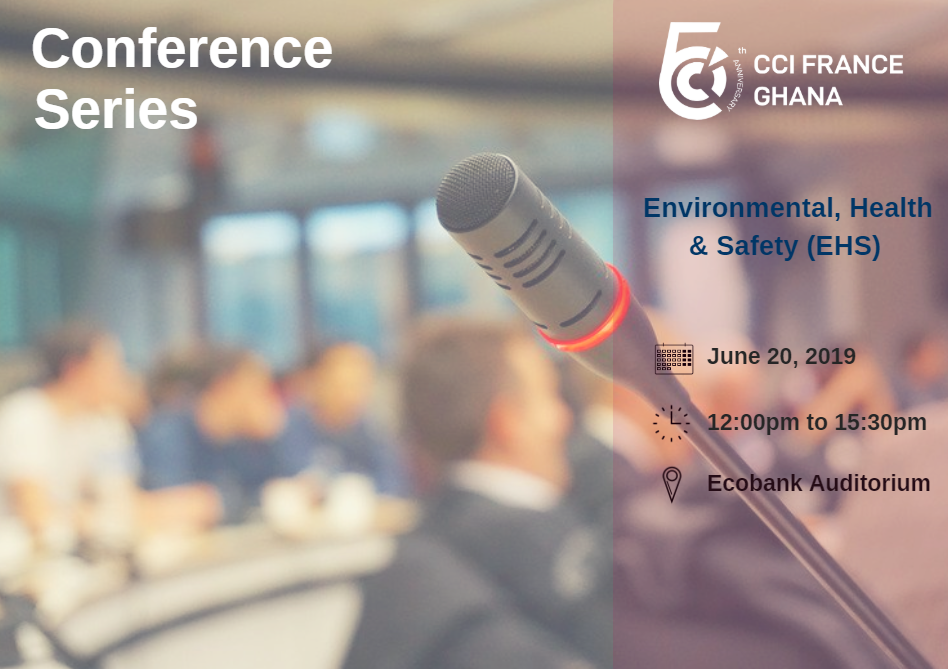 Dear Members and Associates,
CCI France Ghana is organsing an Environmental, Health, & Safety Conference on June 20 2019 from 12:00pm to 3:30pm at the Ecobank Auditorium located in the Ecobank Headoffice.
The conference will address practical aspects of environmental protection and safety at work. The event will highlight the best practices, current trends as well as innovative approaches that can be implemented in your various organizations and projects. Join us and get relevant tips from experts on current EHS issues and case studies of successful EHS projects.
Speakers to the event are Bureau Veritas, Eiffage Genie Civil, Golden Exotics Limited, International SOS and TechnipFMC
Compulsory Registration
The event is free for members and GHS 350 for non-members (TAX inclusive).
Kindly confirm your participation to this event by sending an email to events@ccifranceghana.com by June 3 2019.
For non-members, payment can be done before the event or at the reception of the event.
Do not hesitate to contact us for any further information regarding this event.