CONFERENCE FOLLOWED BY PITCH SESSION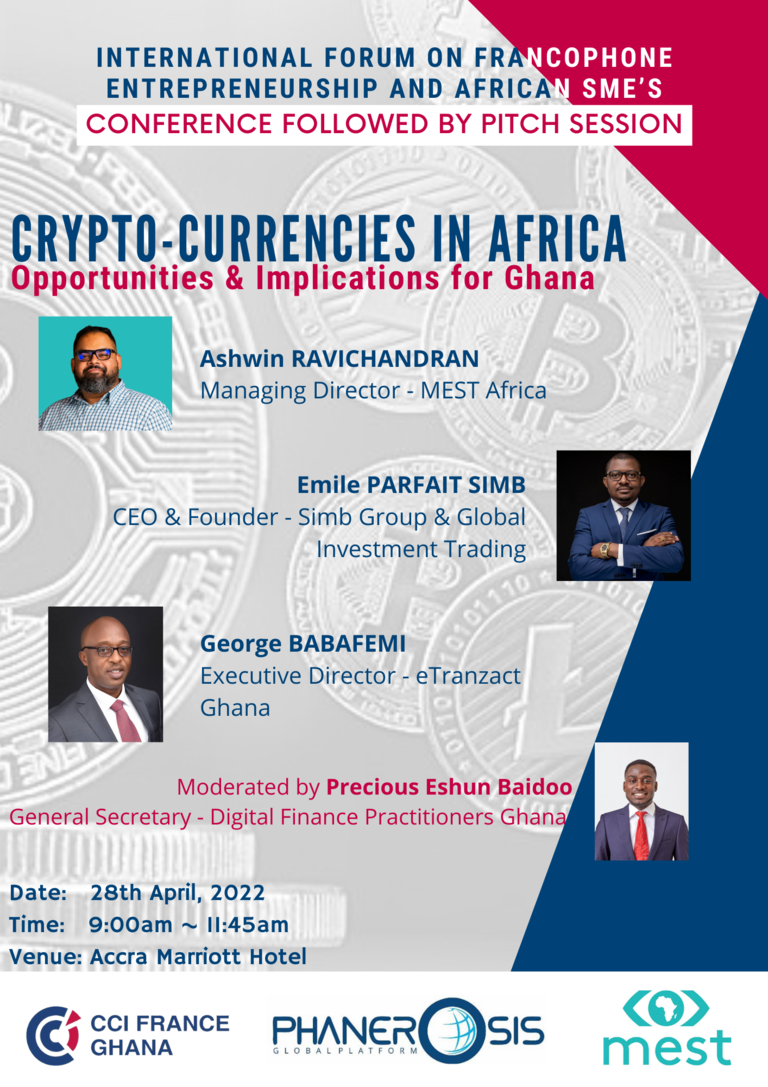 On August 20, 2021, the President of Ghana stated that the E-Cedi introduced by the Bank of Ghana, "will completely transform the architecture of our payment system and deepen financial inclusion, support inclusive and shared growth for our people".
Join us and our distinguished panellists as we discuss cryptocurrencies in Africa, its implications & opportunities for Ghana in a conference organized in partnership with Phanerosis Global Platform. The conference will be followed by a pitch session facilitated by MEST Ghana.
Digital currency (digital money, electronic money or electronic currency) is any currency, money, or money-like asset that is primarily managed, stored or exchanged on digital computer systems, especially over the internet.
The IFFEAS Conference is an opportunity to bring together all the different economic actors, especially small and medium-sized enterprises (SMEs) from different African countries on a platform where different issues relating to their economic development and environment can be discussed in order to increase the rate of trade between them and their economic actors (SME, Startups, Entrepreneurs).
DATE: 28th April, 2022
TIME: 9:00am ~ 11:45am
VENUE: Accra Marriott Hotel
*FREE FOR MEMBERS ONLY*
*NON-MEMBERS WHO WISH TO ATTEND WILL BE PUT ON A WAITING LIST*
Attendance will be limited, hence registration is compulsory.
*All Covid Protocols will be observed*
(Social distancing, Wearing of mask etc.)
In Partnership With