A collaborative event between 4 French Chambers in Africa in partnership with LEX Africa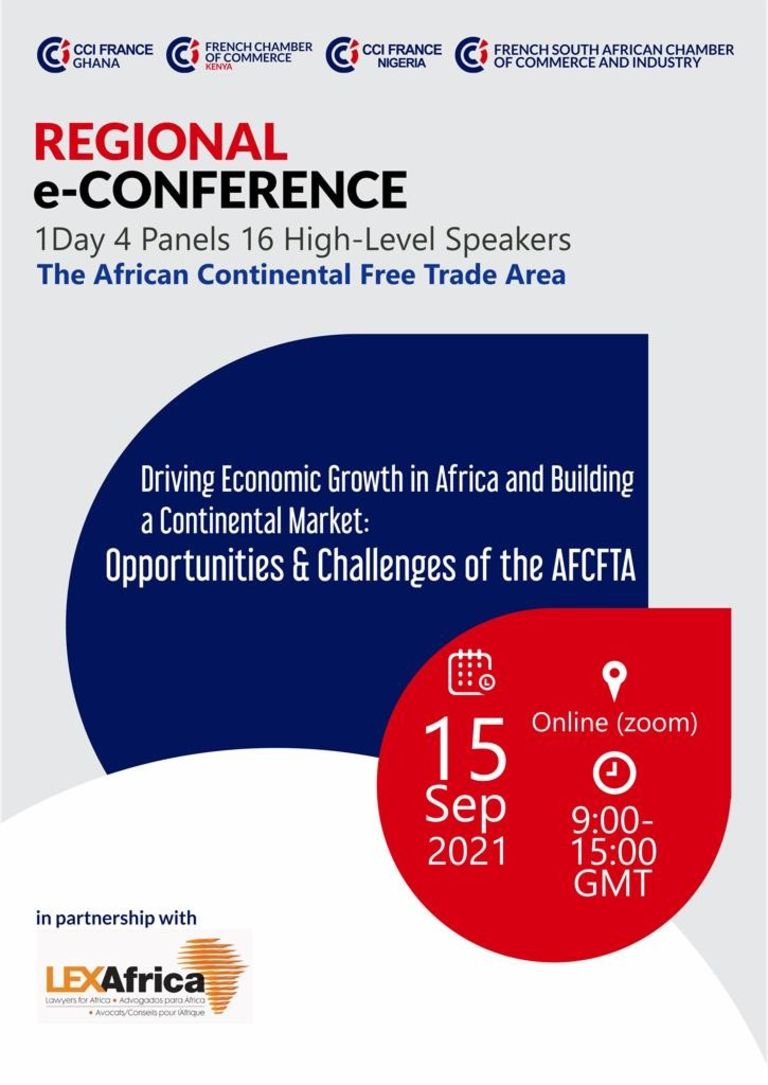 An International e-Conference by Local Experts
The AfCFTA, the world's largest free trade area, aims to form a single continent-wide market for goods and services, fostering more trade and investment.
Join us on Wednesday 15th September 2021, as we discuss the creation of the vast AfCFTA regional market and its opportunities to boost inter-African trade, attract foreign direct investment, and accelerate growth.

Through the collaboration of 4 French Chambers in Africa (Ghana, Nigeria, Kenya and South Africa) and with the support of our partner LEX Africa, a leading regional law firm network, this event will deliver the expertise of 16+ high-level speakers across 4 panels to provide you with the relevant knowledge and insight into this strategic agreement.
AGENDA
INAUGURAL PANEL – 9:00 to 10:30 GMT

Yewande Sadiku, CEO of the Nigerian Investment Promotion Commission
Pieter Steyn, Chairman, LEX Africa
Joseph Atta-Mensah, Principal Policy Adviser at the United Nations Economic Commission for Africa (UNECA)
Alhajj Rashid Kibowa, Director of Trade at the East African Community Secretariat

REGISTER FOR THE INAUGURAL PANEL

EAST AFRICA PANEL – 11:00 to 12:00 GMT

Nazima Malik, Partner at Kaplan & Stratton (LEX Africa)
John Bosco, Executive Director of the East Africa Business Council
Louis Lafont, Sales Coordinator & Business Developer, East Africa Cluster, CMA CGM

REGISTER FOR THE EAST AFRICAN PANEL

SOUTH AFRICAN PANEL – 12:00 to 13:00 GMT

Phumzile Langeni, Special Envoy on Investment, Republic of South Africa
Fidelis Manyuchi, Senior Associate & Tapiwa Chivanga, Associate
Scanlen & Holderness (LEX Africa)
REGISTER FOR THE SOUTH AFRICAN PANEL
WEST AFRICAN PANEL – 13:00 to 14:30 GMT

Nana Dufie Addo, COO, Ghana Investment Promotion Center
Francis Adzah, International Business Development Director, Kasapreko
Susan Barbara Kumapley, Partner, Bentsi-Enchill, Letsa & Ankomah (LEX Africa)

REGISTER FOR THE WEST AFRICAN PANEL
Schedule
Wednesday 15 September 2021

| | |
| --- | --- |
| 09:00 - 10:30 | Inaugural Panel |
| 11:00 - 12:00 | Regional Panel: East Africa |
| 12:00 - 13:00 | Regional Panel: Southern Africa |
| 13:00 - 14:30 | Regional Panel: West Africa |
In Partnership With

A Collaboration of Regional Partners