Aéronautique - Aérospatiale
Servair Works with ESA to Develop Gourmet Menu for Astronauts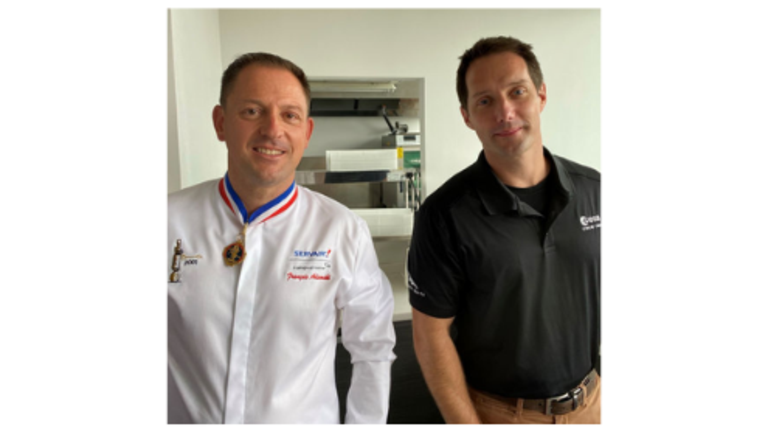 Servair has been asked by the European Space Agency, to develop a gourmet menu for astronauts on the upcoming Alpha space mission...
For each European mission the ESA develops a limited number of dishes according to the tastes of the astronauts. Because there is ultimately little freedom on board, and little that these space men can really choose, the food therefore becomes an important element for the morale of the troops.
Servair, the French and African leader in airline catering, has been asked by the European Space Agency (ESA) to develop a gourmet menu suitable for consumption in space. France's Thomas Pesquet will be part of the SpaceX crew in April for a six month stay on the ISS. Each "gastronaut" on the space mission can take with him celebratory meals that he can share with other members of the expedition.
The ESA and NASA require a shelf life of at least two years at room temperature and follow very strict hygiene and health standards, so how do you create a gourmet product which is not only safe for space transportation but also tastes good? To develop this menu, the Servair team had to follow strict nutrition rules (less than 500mg of salt per serving and no alcohol), change its production from fresh to sterilized - while keeping the same flavors - and adapt recipes so the food could fit into bags and be safe for consumption beyond the Earth's atmosphere.
When creating the menu, Servair organized a comparative tasting of the dishes prepared in the sterilized, flexible bags a few weeks before for the astronauts to try. Once in space taste becomes distorted, so the team had to adjust the recipes while developing them. "For me, it was essential to preserve the flavors of the dishes, whether they were fresh or in sterilized bags," François Adamski, Servair's Corporate Chef, said. "We worked diligently to adjust the seasonings every time until we obtained a product that was very close in taste to its non-space version."
The team believes their work will "enable long shelf-life food production with an excellent gustative finish". The technique also has potential in other markets, including retail, military 'meal ready to eat' (MRE) and humanitarian food.